PROTIP: Press 'i' to view the image gallery, 'v' to view the video gallery, or 'r' to view a random entry.
About
"Draw Yourself" is an exploitable cartoon series centered around a plain stick-figure that can be customized to resemble what the illustrator looks and dresses like in real life. Similar to other character templates like fsjal and conga, "Draw Yourself" became a popular pastime on imageboards and forums largely due to its casual aesthetics. This version is not to be confused be with the expanded multi-pane template Draw Your Life.
Origin
The online phenomenon of illustrating and sharing self-portraits have been in existence prior to the emergence of "Draw Yourself" template, with notable examples like "Draw Yourself as a South Park Character" and "Draw Yourself as a Teenager" from the early 2000s.
The stick-figure template was created by LaxJeff2002 on a F@NBOY$ Forum [1] thread.
The figure itself first appeared on the /co/ board of 4chan after having been posted there by a friend of Jeff's, where over 250 images of it were made.
Spread
Because the "Draw Yourself" template had its beginning on 4chan, there is little information available as to the specifics of its origin, but the drawing fad continued to spread throughout 2010 across a wide range of forums like Ultimate Guitar Forum[2], Dream Theater Forum[3] and Bodybuilding Forum[4], as well as online art communities like DeviantART[5]. "Draw Yourself" threads are still commonly seen on 4chan[6] and Canv.as[7]. Throughout its lifespan, the Draw Yourself template was incorporated into other templates.
Your Life
The first template created from the original was the Your Life template, popularized in early 2010 on the /b/ board, that included day to day things such as favorite music, food, or catchphrase.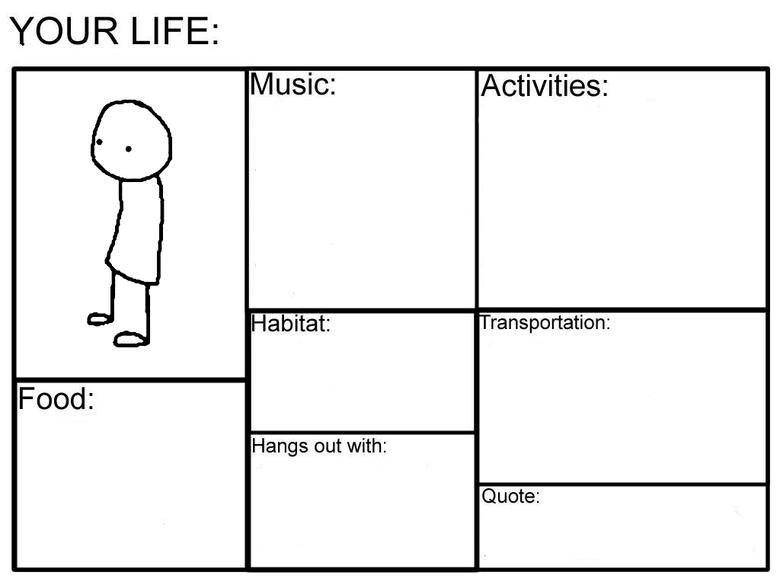 Draw Your Life
The Draw Your Life template, also popularized in early 2010 on the /b/ board, included the Draw Yourself template for different ages, allowing for a different kind of variety in the original.
External References
[1]F@NBOY$ Forum Thread – Drawing From A Template Posted on 7-11-2009
[2]Ultimate Guitar Forum – Draw Yourself? / Posted on 11-29-2009
[3]ArmorGames Forum – Draw Yourself for AG / Posted on 7-10-2010
[4]BodyBuilding Forum – ITT: Draw Yourself / Posted on 1-06-2010
[5]DeviantART – Search Results: Draw Yourself Meme
[6]4chanarchives – Draw Yourself With Your Favorite Toy
[7]Canv.as – Group: Drawings
[8]Dream Theater Forum – The MS Paint Thread V. Draw Yourself
[9]KYM Forum – Post Your Avatar Self
[10]4chanarchives – Armless Guy
[11]4chanarchives – Draw Vidya Characters
Recent Videos
There are no videos currently available.
Facebook Comments