PROTIP: Press 'i' to view the image gallery, 'v' to view the video gallery, or 'r' to view a random entry.
This submission is currently being researched & evaluated!
You can help confirm this entry by contributing facts, media, and other evidence of notability and mutation.
Overview
Lizard Squad Hacks refers to distributed denial of service (DDoS) attacks orchestrated by the hacking group Lizard Squad, which focused on targeting a variety of high profile video game companies beginning in August 2014.
Background
On August 18th, 2014, the @LizardSquad[2] Twitter feed posted a tweet announcing that the hacking group had managed to take the online multiplayer game League of Legends offline.
Notable Developments
RuneScape DDoS
The same day, @LizardSquad[12] took responsibility for taking the massively multiplayer role-playing game RuneScape offline.
Riot Games DDoS
On August 19th, @LizardSquad[5] took responsibility for hacking the video game publisher Riot Games and forcing them to upgrade their security.
Battle.net DDoS
Also on August 19th, @LizardSquad[7] tweeted that they had successfully taken the Blizzard Entertainment online gaming service Battle.net offline.
PlayStation Network DDoS
The morning of August 24th, @LizardSquad[6] posted a tweet alluding to an imminent cyber attack on the video game company Sony's PlayStation network gaming service.
The same day, president of Sony Online Entertainment John Smedley[3] tweeted that the company was currently facing a "large scale DDoS."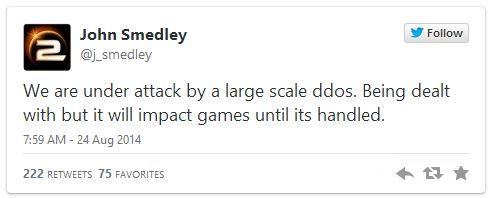 Immediately after, @LizardSquad[8] tweeted to the @AmericanAir feed that they had received reports of explosives smuggled aboard Smedley's flight (shown below, left). Smedley subsequently tweeted that his flight had been diverted for "security reasons" (shown below, right).[9]
Xbox Live DDoS
Also on August 24th, Lizard Squad[10] posted a tweet asking if anyone was having difficulty logging into Microsoft's Xbox Live gaming servers. The following day, the feed posted another tweet asking "How's Xbox Live Doing?"[11]
Support of
ISIS
The @LizardSquad[4] posted a tweet announcing that "Kuffar" (non-muslims) would not be able to play online games until the bombing of the Islamic State of Iraq and the Levant stopped along with the hashtag #ISIS.
News Media Coverage
In the coming days, several news sites published articles about the cyber attacks, including Shack News,[13] The Daily Dot,[14]CNET,[15]ABC News,[16] Motherboard,[17]IBI Times[18] and Tech Crunch.[19]
Search Interest
External References
Facebook Comments