PROTIP: Press 'i' to view the image gallery, 'v' to view the video gallery, or 'r' to view a random entry.
This submission is currently being researched & evaluated!
You can help confirm this entry by contributing facts, media, and other evidence of notability and mutation.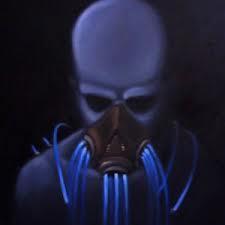 About
Mr. CreepyPasta is a male Youtuber who posts videos to YouTube[1] of him reading various CreepyPastas. His videos often are accompanied by an image that distorts slightly as the video goes on and on to give the whole reading a creepy vibe. While he mostly reads more serious and frightening creepypasta stories such as the Slenderman creepypasta, BEN DROWNED, the Rake creepypasta, and the Jeff the Killer creepypasta, he has read some hilariously bad creepypastas as well, such as THE DAY OF ALL THE BLOOD.
Online History
The avatar Mr. CreepyPasta uses for his Youtube account is that of a blue, humanoid head with a face-mask that has blue tubes connected to it. This figure fits into the creepy themes of his videos. Much fanart has been made of his avatar as well.
Social Media Presence
As of writing, Mr. CreepyPasta has over 100 000 subscribers on Youtube. He also has a website were you can by merchandise, such as t-shirts and mugs. Mr. CreepyPasta also has a Tumblr[2], Twitter[3], and Facebook[4], were he talks with his fans about the various creepypastas he has recited.
Popular Episodes
Search Interest
External References
Facebook Comments