PROTIP: Press 'i' to view the image gallery, 'v' to view the video gallery, or 'r' to view a random entry.
This submission is currently being researched & evaluated!
You can help confirm this entry by contributing facts, media, and other evidence of notability and mutation.
About
Phteven is a nickname given to Tuna, a chihuahua-dachsund mix with a prominent overbite and lower jaw dysfunction, who became after his owner launched an Instagram feed in November 2011. The nickname comes from an unrelated image of a receipt with the customer's name misspelled as "Phteven," or "Steven" when spoken with a lisp.
Origin
On November 22nd, 2011, the "TunaMeltsMyHeart" Instagram[2] feed was launched, featuring photographs of Tuna, a chihuahua-dachsund mix with an "agressive overbite/lower jawline-dysfunction" (shown below). Within the first two years, the feed received more than 603,000 followers. According to Tuna's owner Courtney Dasher, the dog was adopted at a local Farmer's Market where his rescuer claimed he was found on the side of a road near San Diego, California.[8]
Spread
On September 16th, 2012, the Tuna MeltsMyHeart YouTube channel uploaded a video of Tuna trying to walk while wearing dog shoes (shown below).
On December 10th, the domain for the site TunaMeltsMyHeart[3] was registered, which features a store and links to press coverage related to the dog. On the following day, the tech news blog Mashable[6] published an article about Tuna, noting that he had received upwards of 46,000 Instagram followers. On December 12th, a Facebook[7] page titled "Tuna Melts My Heart" was created. On January 9th, the women's interest blog Darling Magazine[8] published a piece by Dasher in which she recounted Tuna's rescue. On January 18th, 2013, Tuna appeared on the American morning talk show Today (shown below).
On June 3rd, The Daily Mail[10] published an article about Tuna. On June 5th, MSN[9] highlighted several notable photographs of the dog. On June 7th, the GeoBeats News YouTube channel posted a video about Tuna's Internet fame (shown below). On August 1st, the viral content site BuzzFeed[5] highlighted several of Tuna's notable Instagram photographs in honor of his third birthday.
Notable Examples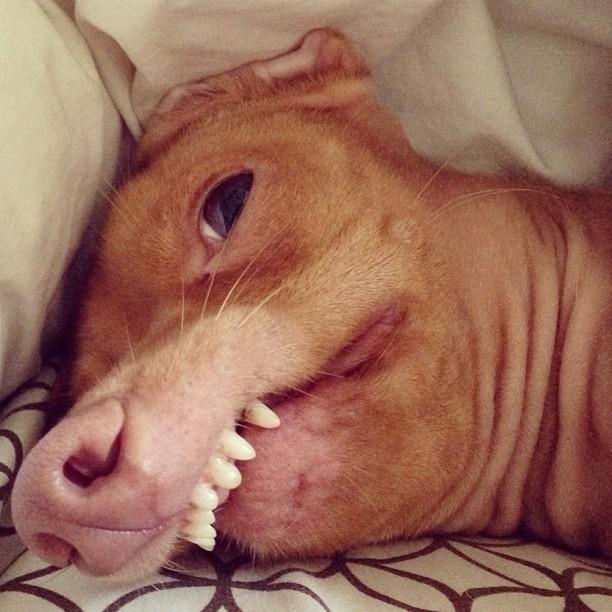 Phteven
On September 4th, 2013, Redditor Lightbrite08 submitted a photograph of a note with the name "Stephen" misspelled as "Phteven" to the /r/funny[13] subreddit. On September 25th, 2013, Redditor Eli2cute submitted a post titled "Phteven? Is that you Phteven?" to the /r/funny[1] subreddit, featuring a two-pane image containing the note photograph followed by a picture of Tuna (shown below). In the first two months, the post gained over 11,200 up votes and 270 comments.
On September 29th, the two-pane image was reposted to the Internet humor site 9gag.[4] Beginning in October, other photographs of Tuna began circulating on the microblogging site Tumblr,[11][12] with captions phonetically written to sound like a speech impediment caused by an overbite (shown below).
Search Interest
External References
Recent Videos
There are no videos currently available.
Facebook Comments