PROTIP: Press 'i' to view the image gallery, 'v' to view the video gallery, or 'r' to view a random entry.
About
"I Have No Idea What I'm Doing" is a catchphrase often used in image macro captions featuring photos of animals, typically canines, posed as if they are performing tasks associated with humans similar to Yes This is Dog and Dog Fort images.
Origin
The earliest known appearance of the photo of a Golden Retriever posing with a camera appeared on the Hong Kong Wordpress site Photoblog[6] on November 20th, 2010. On February 27th, 2011, a photoshopped version was posted by Ben Grelle (aka The Frogman) to his Tumblr[1] blog with the caption "I have no idea what I'm doing." The post received over 5,000 notes in less than a year.
Spread
The Frogman image was posted to Reddit[2] on March 3rd, 2011 and reached the front page accumulating 3,609 up votes prior to being archived. In the thread, Frogman responded with a complaint that his watermark had been cropped out of the image, and provided a link to his original post.
The earliest known instance of the chemistry dog with the "I have no idea what I'm doing" caption was posted to the Lolabego Tumblr[4] on June 17th, 2011. On December 2th, 2011, an image of a dog sitting at a laptop accompanied by the catchphrase was submitted to the /r/funny subreddit and reached the front page accumulating over 4,500 up votes within 6 weeks.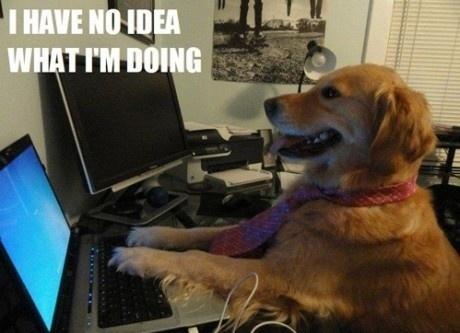 Notable Examples
Search Interest
Search queries for "have no idea what I'm doing" picked up in March of 2011, the same month the original Frogman instance was posted.
External References
Facebook Comments