PROTIP: Press 'i' to view the image gallery, 'v' to view the video gallery, or 'r' to view a random entry.
Warning: This page contains material that may be considered not safe for work.
This submission is currently being researched & evaluated!
You can help confirm this entry by contributing facts, media, and other evidence of notability and mutation.
About
Snapchat is a mobile photo and video messaging application for Apple iOS and Google Android devices which allows its users to create and share photo or video messages that are only accessible for a short period of time. For each message, the sender can set a time limit (up to 10 seconds) for how long the message can remain visible to its recipient, after which it is deleted from the device and Snapchat's servers.
History
In April of 2011, Stanford University students Evan Spiegel and Bobby Murphy began working on the application for a project in one of Spiegel's product design classes. In July of that year, the program was named "Picaboo" and launched for iOS devices. In September, the app was re-released under the name "Snapchat," and in late October, Snapchat became available for Android mobile devices.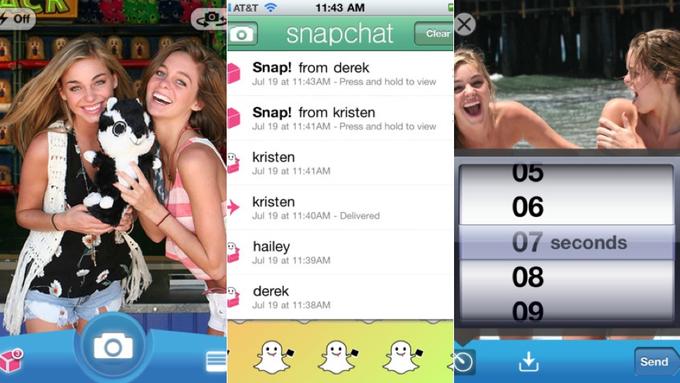 Funding
On October 29th, 2012, the tech news blog TechCrunch[1]reported that SnapChat had received $485,000 in seed funding from the Lightspeed Ventures venture capital firm. In February of 2013, Snapchat announced it had received $13.5 million in Series A funding led by the firm Benchmark Capital, further raising the company's market value from $60 to $70 million. On April 16th, 2013, the tech news blog Mashable[7] quoted Spiegel saying they are looking into advertising as a means of revenue.
Lawsuit
On February 25th, 2013, the LA Times[8] reported that South Carolina resident Frank Reginald Brown IV had filed a lawsuit against the Snapchat founders to have "his rights restored" after being pushed out of the company. In the complaint, Brown claimed to have worked on the app during the summer of 2011, purportedly naming the application "Picaboo" and designing the company's smiling ghost mascot "Ghostface Chillah," a reference to the Wu-Tang Clan rapper Ghostface Killah.
After having a falling out with Spiegel and Murphy in August, he alleged that the server account passwords were changed and that they discontinued all communication with him. On July 1st, the tech news blog TechCrunch[10]reported that Brown had filed a new motion to disqualify the law firm of Quinn Emanuel Urquhart & Sullivan LLP from representing Spiegel, Murphy and the Snapchat company, since Brown alleged that he had been advised by a Quinn Emaunuel lawyer about his legal case six months prior. Later that day, TechCrunch[11] followed up with another article about newly obtained court documents relating to the case, which included several screenshot of an SMS conversation confirming that Spiegel had once admitted Brown was responsible for "the idea for disappearing picture messages" (shown below, left). On July 10th, ValleyWag published several messages cited in the documents in an article titled "Snapchat Had the Frattiest Creation in Startup History" (shown below, right).
On October 23rd, Brown filed a new lawsuit against Snapchat's investors Lightspeed Venture Partners, Benchmark Capital, Institutional Venture Partners, General Catalyst, SV Angel, GC&H Investments, SF Growth Fund and an unknown entity referred to as "THL A17."[13] The filing also included a comparison of two promotional messages for the app sent by Spiegel via e-mail, one that had been written before the falling out and a revised copy after Brown had been ousted (shown below).
Reception
While the Snapchat app automatically deletes media files after the time limit has expired, users can still take screenshots prior to their deletion. On May 6th, 2012, The New York Times Bits blog[3] published an article noting that the app had a reputation for users sharing sexually explicit media, a practice known as "sexting." On December 10th, Gawker published an article about a new Tumblr blog titled "Snapchat Sluts,"[5] which highlighted sexually explicit images screen captured from Snapchat. On December 18th, the PopCultured YouTube channel uploaded a video in which a guest panel discussed the controversial Tumblr blog (shown below).
On March 14th, 2013, Mashable[6] reported that students at a New Jersey high school had been threatened by local police with child pornography charges for sharing sexually explicit photos using the service.
Dorm Search Prank
On April 8th, 2013, Snapchat was used to spread a rumor that dorm rooms at the University of Virginia were being searched by Alcoholic Beverage Control (ABC) officials.[9] Panicked students began spreading the word using the hashtag #UVAdormsearch, many of whom reportedly disposed of their alcohol in the university dumpsters.
"The current BAC of the dumpster: 5.6"

— Kasey Stolba (@kstolbzz) April 8, 2013
After school officials learned of the prank, Dean of Students Allen Groves took to Twitter to announce that the ABC was not conducting searches.
UPD has just confirmed to me that ABC is NOT conducting searches on Grounds today. Someone has had a lot of fun at my students' expense.

— Allen Groves (@UVADeanGroves) April 8, 2013
The Snappening
The Snappening refers to the massive leak of up to 200,000 privately archived photographs and more than 90,000 videos of Snapchat users obtained by unidentified hackers through a security breach in the third-party web-based client SnapSaved.com, and media coverage and speculation surrounding the event.
Traffic
In May of 2012, Snapchat was processing 25 images every second.[2] In October of that year, Snapchat was ranked #19 on the free apps chart and users were sharing over 20 million snaps every day. On November 27th, Forbes published an article about Snapchat, calling it "the biggest no-revenue mobile app since Instagram."
Search Interest
External References
Facebook Comments