PROTIP: Press 'i' to view the image gallery, 'v' to view the video gallery, or 'r' to view a random entry.
This submission is currently being researched & evaluated!
You can help confirm this entry by contributing facts, media, and other evidence of notability and mutation.
About
Fate/stay night is a Japanese visual novel developed by Type-Moon, [1] which was originally released as an adult game for Windows on January 30, 2004. While never officially released in English, a fan translation was made by mirror moon for free.[2] The game is about Shirou Emiya, a high school student who unwittingly enters a to-the-death tournament called The Fifth Holy Grail War, where combatants fight with magic and heroes throughout history for a chance to have their wishes granted by the Holy Grail. He must defeat the other six combatants in order to win.
History
[researching]
Related Memes
People Die If They Are Killed
"People Die If They Are Killed" is mistranslation originating from episode 23 of the anime adaption when Shirou is overcome by emotion and says, "People die if they are killed." to his Servant, Saber. In actuality, the phrase itself comes from a play on an idiom that describes incredibly tough people who "won't die if they're killed".

Jam It In!
"Jam It In" is an exploitable phrase (Along with VagOOO and POnOS) originating from an awkwardly-translated hentai doujin in which Saber asks Shirou to restore her magic by telling him to "please put your… that! y…your pOnOs! to my… my… here! my vagOOO!!! and j… j… JAM IT IN!" Shriou's reply of, "You lost me…" has also reached memetic status, due to the situations in which it can be used to respond to a sexual innuendo.

Sakurafish
Sakurafish / Every Day Until You Like It refer to a recurring image that features the heroine Sakura forcefully biting a fish. The image is mainly posted on 4chan's /a/ (anime & manga) and /jp/ (otaku culture) boards, with the idea being that posting it on a regular basis will lead to even those that initially hate it to grow used to it and like it. Due to this, threads featuring Sakurafish became commonly accompanied with the text "I'm going to post this every day until you like it." Although initially seen as widespread trolling in 2007 and 2008, through 2009 and later opinions about Sakurafish became more positive, resulting in the image seeing frequent usage in photoshops.

GAR
GAR is an anime-related term that is associated with "manly" and "badass" characters. The term is more or less inspired by the character Archer. It originated from an anonymous user on 4chan's /a/ board meant to post "I am Gay for Archer" accidentally posted "I am Gar for Archer". The typo quickly caught on in popularity and was widely used on /a/ and other anime-related internet forums. The term also became popular on the /m/ (Mecha) board due to the popularity of the series GaoGaiGar.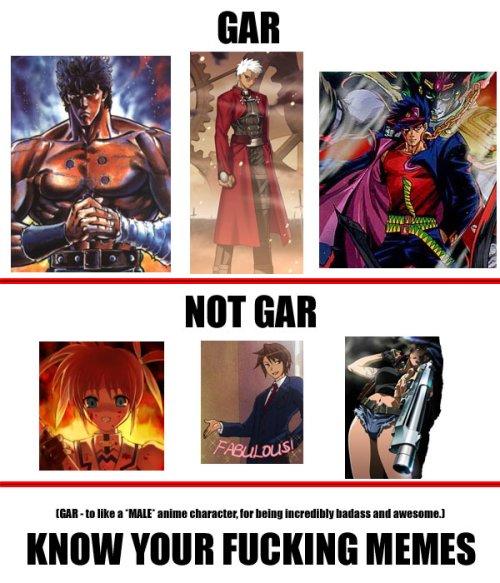 Unlimited Blade Works
Unlimited Blade Works is the incantation used by character Archer during the "Unlimited Blade Works" route in the first game to summon a Reality Marble, a space of altered reality where he is granted unlimited access to copies of legandary swords. The incantation has since been parodied in a series of copypastas, with variations being created and posted on 4chan's /a/ board and on Fate related sites.

Search Interest
External references
Facebook Comments