PROTIP: Press 'i' to view the image gallery, 'v' to view the video gallery, or 'r' to view a random entry.
This submission is currently being researched & evaluated!
You can help confirm this entry by contributing facts, media, and other evidence of notability and mutation.
About
Teen Wolf is an American fantasy drama TV series that follows the story of high school outcast Scott McCall, whose life takes a dramatic turn after he is bitten by a werewolf and becomes one himself. Upon its premiere on MTV in June 2011, the show quickly developed a large online following, particularly on Tumblr.
History
The show was conceived by screenwriter and producer Jeff Davis as a serial adaptation of the 1985 eponymous fantasy comedy film starring Michael J. Fox and premiered right after that year's MTV Movie Awards[1] on June 5th, 2011. Its first season consisted of 12 episodes, with its season finale airing on August 15th. Its second season premiered on June 3rd, 2012, and concluded on August 13th after 12 episodes. Its third season consists of 24 episodes broken up into two parts, the first half running from June 3rd to August 19th in 2013 and the second half running from January 6th to March 24th in 2014. At the 2013 New York Comic Con, MTV announced the renewal of the series for another season with 12 new episodes.[2]
Premise
High school student Scott (Tyler Posey) is bitten by a werewolf just before the new school year. He tries to figure out how to control his new powers with the help of his best friend Stiles (Dylan O'Brien) and another werewolf in town, Derek (Tyler Hoechlin). He develops a crush and pursues a relationship with new girl Allison (Crystal Reed), who comes from a family of werewolf hunters. Over the course of the three seasons, they find new supernatural abilities among their group and their fellow students, and battle threats from monsters, hunters, and rival werewolf packs.
Reception
Teen Wolf earned a 7.7 on IMBD[10] and a 61 on Metacritic.[11] Its series premiere had 2.17 million viewers, its second season premiere had 2.11 million viewers, and its third season premiere had 2.36 million viewers.[12][13][14] It was nominated for eleven Teen Choice Awards between 2011 and 2013, winning two in 2012 for Choice Summer TV Show and Choice Summer TV Star: Male (for Tyler Posey).
Online Presence
As of February 2014 Teen Wolf's official Twitter account[3] has over 670,000 followers and its Facebook page[4] has over 3.4 million likes.
Fandom
There are numerous fan-run Tumblr blogs dedicated to the Teen Wolf fandom, including fyteenwolf[7], allteenwolf[8], and teenwolf-cast.[9] As of February 2014, there are over 7,900 Teen Wolf fanfictions on Fanfic.net[5] and more than 23,100 fan art submissions on DeviantArt.[6] The fandom's most popular ship is Sterek, in which Scott's best friend Stiles and the other mysterious werewolf Derek are portrayed as a couple.
Sterek
Many Teen Wolf shippers think Scott's best friend Stiles and fellow werewolf Derek should be in a romantic relationship. A Twitter account[16] for Sterek shippers, @Team_Sterek, has over 8,000 followers as of February 2014, and Sterek has over 5,000 submissions on DeviantArt[17] In 2012 Sterek won gay entertainment site AfterElton's Ultimate Slash Madness Tourney for favorite same sex TV ship and in 2013 won E! Online's Fantasy TV Couple poll.[15][19]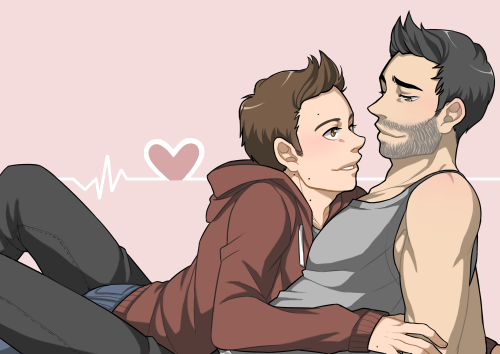 <
Notable Examples
Search Interest
External References
Recent Videos
There are no videos currently available.
Facebook Comments