PROTIP: Press 'i' to view the image gallery, 'v' to view the video gallery, or 'r' to view a random entry.
This submission is currently being researched & evaluated!
You can help confirm this entry by contributing facts, media, and other evidence of notability and mutation.
About
The Walking Dead is a horror drama television series based on the eponymous monthly comic book series chronicling the travels of Rick Grimes, his family and other survivors of a zombie apocalypse. The plot is centered around the protagonist character Rick Grimes, a local police officer shot who wakes up from a coma in a post-apocalyptic world.
History
Comic Book Series
The comic was created by writer Robert Kirkman, artists Tony Moore and Charlie Adlard (from issue #7 onward), and first issued by publisher Image Comics in October 2003. The series has been positively received by critics and comic book fans alike, eventually winning the Eisner Award for Best Continuing Series and landing a TV series adaptation deal with AMC in 2010.
TV Series
Scenes from the pilot episode were unveiled for the first time at the San Diego Comic-Con International on July 23rd, 2010, followed by its online leak via Bittorrent on October 20th, nearly two weeks before the official premiere on October 31st. Due to the reception of the first season, AMC renewed the show for a second season with 13 episodes. Season Two premiered on the 16th of October, 2011 and finished on the March 18th, 2012. Two episodes into the second season, it was confirmed for a third season to contain 16 episodes. The third season was released on October 14th and finished March 31st. Season 4 of the show has been confirmed and will start filming of the new season May 6th, 2013 and premiere supposedly on October 1st.
Video Games
In April 2012, TellTale Games released the pilot episode of a point-and-click adventure role-playing game based on Kirkman's original comic series. Taking place shortly after the zombie apocalypse in Georgia, the story follows the main protagonist Lee Everett, a former college professor convicted for murdering a state senator in a crime of passion, and other survivors he meets along his adventures. The game was met by critical acclaims and dozens of accolades and awards, especially for its innovative take on the adventure RPG genre, as well as strong writing and voice acting.
Activision would try to build of the fame of The Walking Dead by releasing their own game, "The Walking Dead : Survival Instinct", developed by Terminal Reality, released in March 2013. The game is a first person and third person cover shooter, based on the AMC show rather than the graphic novels. It focuses on the Dixon Brothers as they make their way to Atlanta during the early days of the outbreak. Voice acting for both Dixon Brothers were both done by Norman Reedus (Daryl Dixon) and Michael Rooker (Merle Dixon) respectively. The game would receive mostly negative reviews for poor graphics and gameplay.
Polygon would state: "The Walking Dead: Survival Instinct is the exact sort of lazy, cheap cash-grab that gave licensed games a bad name in the first place" and compared playing the game to "listening to a roomful of barely competent musicians, each of whom is playing a completely different song. And every once in a while one kicks you in the groin. Also, you have a sunburn."
The Games Cabin would be even hasher by saying "The Walking Dead: Survival Instinct could have been fantastic, it could have been so much more, but unfortunately it's nothing more than a shameless cash-in on a popular license. Lacking any kind of visuals to keep you interested, a story that isn't really a story and repetitive gameplay across repetitive locations and you've got yourself a stinking, steaming pile of rotting zombie crap."
Related Memes
Stuff and Things or commonly Stuff… THAAANGS comes from the Season 3 episodes "Seed", "Home", and "I Ain't a Judas."
In these episodes, Rick would encounter a question and often respond by saying, "Stuff…Things." The eventual spread of Stuff and Things would lead to image macros, and panel series.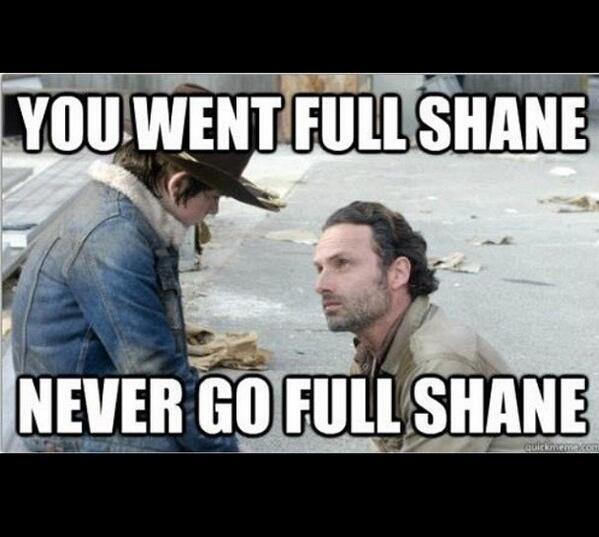 Carl goes "Full Shane" comes from the Season 3 finale episode , "Welcome to the Tombs." The Governor attempts and fails to take the prison. Carl shoots a boy in "self-defense" even though the boy never fired a shot. The "Full Shane" part comes from the many wrong things Shane did in Season 2, especially shooting Otis and leaving him for dead.
Facebook Comments