This submission is currently being researched & evaluated!
You can help confirm this entry by contributing facts, media, and other evidence of notability and mutation.
About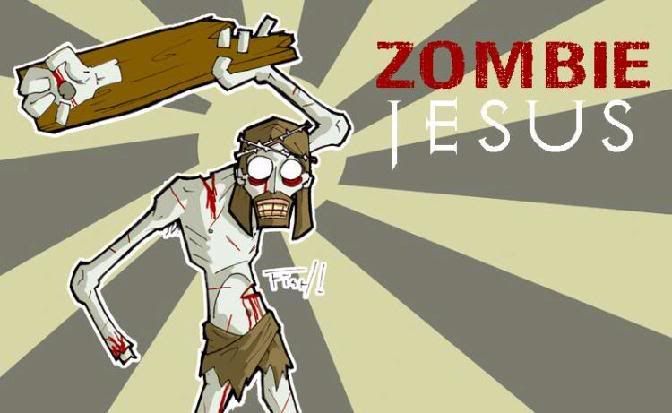 Zombie Jesus is a joke that pokes fun at Christianity by mocking Jesus' rising from the dead. According to this, this only way jesus could have possibly resurrected is if he was a zombie. The meme has gained much popularity over time and is well known throughout the country and other parts of the world.
In the Christian faith it is believed that after Jesus was crucified, he was raised from the dead by God in order to spread his word. today, many people have taken this concept and twisted into what is now Zombie Jesus.
Zombie Jesus is based of of the argument that…
1) He came back from the dead

Acts 2:24
But God raised him from the dead, freeing him from the agony of death, because it was impossible for death to keep its hold on him

2) He encourages zombie like behavior

John 6:53
Jesus said to them, "I tell you the truth, unless you eat the flesh of the Son of Man and drink his blood, you have no life in you"
Origin
The first use of this phrase is believed to be from the popular show Furturama in the episode When Aliens Attack on November 7, 1999. However, the actual meme did not begin until much later and it is unknown to what caused its sudden popularity in the mid 2000's. The first known Urban Dictionary was by Jesus H. Christ on January 20, 2005.
The zombified version of Jesus
"Holy Shit dude! I think i just saw Zombie Jesus go by"
However the most popular definition did not come until May 13, 2005 by Christopher Reynolds
An exclamation of surprise or shock originating on Matt Groening's 'Futurama' animated TV show as a futuristic equivalent of the modern usage of 'Jesus Christ' as an exclamation. Usually preceded by the words 'sweet' or 'holy'.
On October 25, 2005 an article titled, Zombie Jesus appeared on Uncyclopedia.com
Popularity
As one may notice, the meme has a peak of popularity every Easter since the years 2005/2006.
Popular Culture
Since it's creation, Zombie Jesus has inspired numerous pictures, videos, and webpages throughout the internet.
The Church vs. Zombie Jesus
The Christian Church is known for spreading the word of god, whether people like it or not. Zombie Jesus is often used in order to retaliate against the churches constant preaching.
The church has responded to these "sick" images, saying that they are atheist jokes and that these people should realize the powers of God. In an angry post on Christwire.org one blogger had this to say…
How sick is it that there are people on Earth who after hearing the beautiful Passion story, they still try to deny Christ and even mock him? These new age heathens still dare to defy Christ, though now he is upon his throne in heaven and awaiting them to follow his love.

Last year we saw the ugly face of atheism when Pastor Jack exposed all the Zombie Jesus Jokes from Atheists he was sent on Resurrection Sunday.

Now today we find the atheists still have no respect. I hope they realize that hell burns hotter than the sun itself, and the day comes when they only wish they could have a Sunday where they went to church for Easter than a nice, ardent day's park lunch with family afterward.
Comedy
Comedian Jamie Kilstein came out with a comedy/spoken word album in 2009 entitled " Zombie Jesus ." The album includes a skit by the same title where he points out the Jesus might not be so pleased to see us when he comes back after what we did to him.

Share Zombie Jesus by Jamie Kilstein
Movie
In 2007 the film company Pigeon Film Productions released a short film entitled, " Zombie Jesus ."
The film was directed by Steve Miller a small time writer/director working on such projects as SNL. The film won multiple awards including Best film by the HSBC Canada Filmmakers Awards, and Best Short at the After Dark FIlm Festival.
Futurama
In the hit TV show Futurama Professor Hubert J. Farnsworth has been known to shout the phrase ,"Holy/Sweet Zombie Jesus"
Zombie Jesus Day
Because of this trend, Easter, the religious holiday celebrating Jesus' resurrection has been deemed Zombie Jesus Day. This holiday is believed to have been started by the popular web comic, Cyanide and Happiness back in 2006 with this comic.


Cyanide & Happiness @ Explosm.net

There are cards, shirts and other paraphernalia all dedicated to the day Jesus Christ rose from the dead to feed on the living.
Search Interest
External References