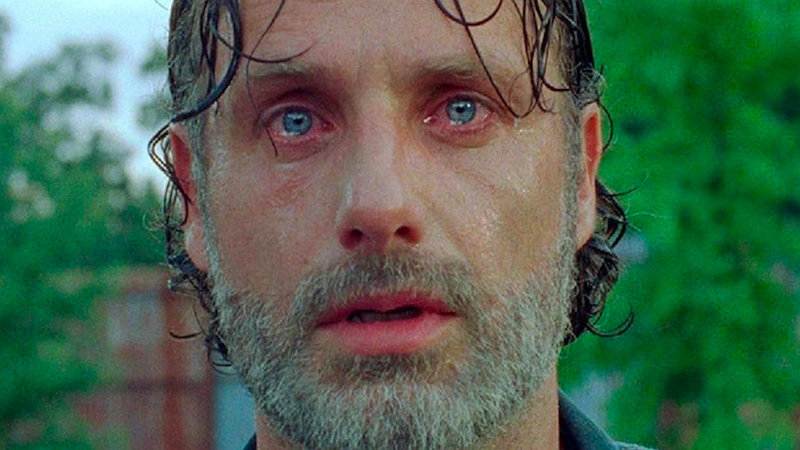 This submission is currently being researched & evaluated!
You can help confirm this entry by contributing facts, media, and other evidence of notability and mutation.
About
Rick Grimes Crying, also known as the Rick Grimes Stare, refers to a screencap of The Walking Dead protagonist Rick Grimes with red eyes, staring into the camera and crying. The scene also spread as a meme in video and GIF form. Overall, Rick Grimes crying became a reaction image on Twitter and elsewhere as well as an image macro, paired with various captions that alluded to being distraught or heartbroken. Alternatively, the video was used in memes and emotional edits, such as Corecore videos on TikTok.
Origin
On December 4th, 2016, season 7, episode 8 of The Walking Dead titled "Hearts Still Beating" aired on AMC.[1][2] In one scene of the episode, the show's protagonist Rick Grimes (played by Andrew Lincoln) is looking directly into the camera while crying. Grimes's eyes are also red. Among many publications on the day of the episode's airing, Forbes[1] published an article about the episode, including the screencap of Grimes crying, provided by AMC (shown below).

Obscure, non-viral usage of the image persisted online after the episode's 2016 release, evident in Pinterest[3] and Tumblr[4] posts within the timeframe. Viral usage of the image didn't surface en masse until 2019. Currently, the earliest notable meme to use the screencap was about the Storm Area 51 event. Currently, the earliest known time it was shared was on July 16th, 2019 by the Facebook[5] page Horrific Humour, gaining roughly 3,400 shares in four years (shown below).

Spread
In late 2021, the meme picked up virality once more, predominantly started by a GIF Caption posted to /r/memes [6] by Redditor z_shah7 on December 25th, 2021, which earned roughly 37,400 upvotes in a year and a half (shown below).

On August 27th, 2022, Twitter[7] user @DeviantReaction posted the video as a reaction video, gaining roughly 114,600 views in eight months. The meme gained more usage in late 2022 and early 2023. For instance, on January 11th, 2023, Redditor coolsteelboyS4ndyBoy posted a meme about vegans to /r/memes,[8] gaining roughly 6,300 upvotes in four months (shown below, left). On January 16th, 2023, Redditor frog_a_dog shared a version to /r/distressingmemes,[9] gaining roughly 2,300 upvotes in the same timeframe (shown below, right).


Rick Grimes crying also started to be used on TikTok within schizoposting memes about Russian paratroopers. For instance, on March 14th, 2023, TikToker[10] @distressed_pb000 posted an iteration of this nature about skinwalkers, gaining roughly 1 million plays and 144,900 likes in two months (shown below).
Around the same time, similar iterations were surfacing on both Instagram[11] and iFunny.[12]
Various Examples






Templates


Search Interest
Unavailable.
External References
Recent Videos
There are no videos currently available.