About
Zombies are fictional undead monsters that typically take the form of reanimated human corpses with a hunger for human flesh and organs. Since entering the lexicon of American pop culture in the 1960s through the success of horror films like The Night of the Living Dead, the fictional identity has since grown into a popular plot device used in horror or suspense films, novels, TV shows and even videogames.
History
The earliest known mention of flesh-eating undead was found in the epic Mesopotamian poem Epic of Gilgamesh,[1] which dates back to the 18th century BC. In the poem, the goddess Ishtar warns that she will knock down the "Gates of the Netherworld," allowing the dead to devour the living. The novel The Magic Island[2] by William Seabrook, written in 1929, is believed to have introduced the word "zombi" into the United States. The portrayal of zombies in modern popular culture is largely derived from the 1968 horror film Night of the Living Dead by George A. Romero, in which zombies are portrayed as slow-moving, mindless and relentlessly violent reanimated human corpses. Interest in zombies experienced a resurgence in mainstream media in the early 2000's, due to the popularity of several horror movies, including 28 Days Later, Dawn of the Dead and Resident Evil.
Reception
Zombies have gained a large cult following among horror fans and cosplayers. On August 19, 2001, a zombie walk, in which people dressed as zombies and walked together in groups, was organized in Sacramento, California to promote The Trash Film Orgy's[5] annual midnight film festival. Soon after, the walk became an annual event and has been a regular occurrence at conventions like ComicCon and zomBcon.[6]
In June of 2003, a disaster preparedness organization calling itself the Zombie Squad was formed in St. Louis, Missouri, which was inspired by the horror film 28 Days Later to prepare for emergency situations. On September 16th, 2003, the manual The Zombie Survival Guide by Max Brooks was published, which provided detailed advice on how to survive a zombie attack. The book subsequently developed a cult following and is considered a helpful guide for survival in a post-apocalyptic setting.

The United States Centers for Disease Control and Prevention[3] (CDC) published a graphic novel titled "Preparedness 101: Zombie Apocalpyse" on May 18th, 2011. The comic provided tips on how to survive a zombie invasion as a way to disseminate information about emergency preparedness, including the importance of stock piling important necessities, including water, food and medical supplies for all potential disasters.

Gaming
The undead are a recurring theme in many video games, including Left 4 Dead, Resident Evil and Plants
vs, Zombies. Zombie-related downloadable content (DLC) have been released for many games as well, including Red Dead Redemption: Undead Nightmare and Call of Duty:World at War: Zombies and it's sequel Black Ops: Zombies.
Fan Art
On September 8th, 2006, artist Jillian McDonald exhibited several works of art featuring zombies at the Art Moving Projects gallery in Williamsburg, Brooklyn.[4] As of November 21st, 2012, over 670,000 deviations have been submitted to the art-sharing website DeviantArt under the tag "#zombie."[7]






Related Memes
Zombie Jesus
Zombie Jesus is a joke mocking the Christian story of Jesus' resurrection after being crucified on a cross, saying that he could only have arisen from the dead by becoming a zombie. The first use of the phrase "zombie Jesus" was used in an episode of the animated television show Futurama in November of 1999.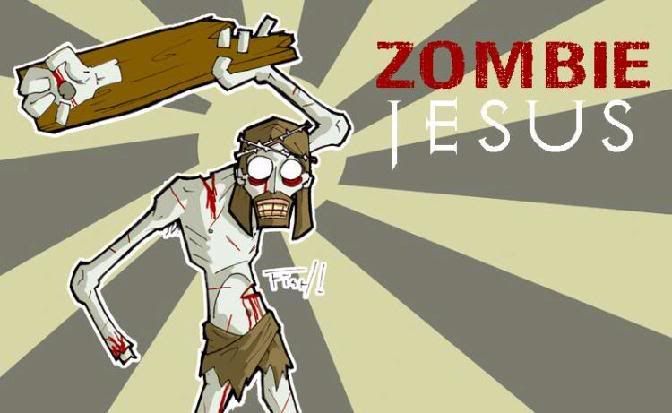 DOOM: Repercussions of Evil
DOOM: Repercussions of Evil is an avant garde work of amateur fan fiction by Fanfiction.net user Peter Chimaera, which gained a cult following online after being published in March of 2002. At the end of the story, the protagonist John turns into a zombie.
Rocket-Propelled Chainsaw
The Rocket Propelled Chainsaw is a fictional weapon invented for the sole purpose of killing large amounts of zombies. It was popularized online after a mock diagram (shwon below) was posted to the Military Photos website in December of 2005.

I Like Turtles
On May 31st, 2007, a young boy wearing zombie makeup named Jonathan Ware (aka Zombie Kid) was interviewed during a live television broadcast at the Rose Festival in Portland, Oregon. When asked what he thought about his face paint, Ware responded with the phrase "I like turtles" (shown below).
Zombie McCain
Zombie McCain, is a photoshop meme featuring an exploitable image of the senior United States Senator from Arizona John McCain sticking his tongue out while walking behind President Barack Obama. The series took off shortly after the picture was taken following the third and final presidential debate in October of 2008.

Anti-Zombie Fortress
Anti-Zombie Fortress is the nickname given to an abandoned coal mine in Fukuoka Prefecture, Japan, which became the subject of parodies and discussions on the social news site Reddit in April of 2011.

Miami Zombie
Miami Zombie. is the nickname given to deceased Miami resident Rudy Eugene, who viciously attacked and cannibalized the homeless man Ronald Poppo in May of 2012. The horrific story was heavily discussed in news media and online, with many people joking that the attack was a sign of the zombie apocalypse.
Zombie Survival Sheet
Zombie Survival Sheet is an exploitable template popularized on 4chan, in which various tools and equipment for surviving a zombie apocalypse are listed for specific purposes (shown below).

Search Interest
External Rerferences