PROTIP: Press 'i' to view the image gallery, 'v' to view the video gallery, or 'r' to view a random entry.

About
Troll Science, also known as "Troll Physics", is a rage comic series illustrating various experiments that are based on faulty understanding of scientific concepts. The intentionally pseudo-scientific drawings are often used to mislead the viewers or frustrate science educators and students for their obvious errors.
Origin
While troll science is rumored to have started on 4chan, the earliest known example was submitted to the f7u12[1]rage comic subreddit in a post titled "Troll Physics" on September 13th, 2010. The comic featured a drawing of a self-propelled truck powered by two horseshoe magnets facing each other, which would be theoretically impossible based on their placement. The post received only 44 up votes and 4 comments prior to being archived.

Spread
On September 13th, 2010, Redditor zarbob submitted a post to the f7u12[23] subreddit titled "Troll physics again, the magnet helmet", which featured a drawing of a trollface soldier wearing a helmet with a magnet on it, implying that the magnetism would attract any bullets away from the wearer's body (shown below).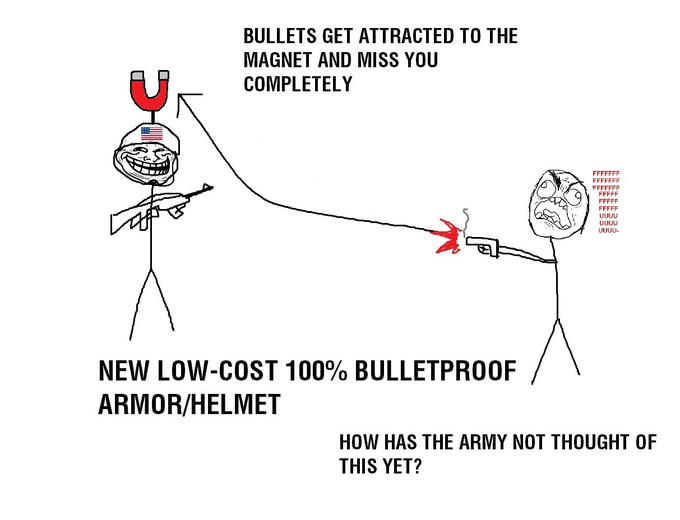 The earliest known Troll Science thread on 4chan[10] was posted to the /b/ (random) board on September 29th, which began with the picture of the magnetically propelled automobile. Prior to being archived, the thread accumulated over 313 responses, many of which containing additional troll science comics.

On September 30th, the website Troll Science[3] was launched, which served as a database for troll science images. On October 1st, the "Troll Physics"[4] blog was created on the microblogging site Tumblr. The next day, another Tumblr blog was created titled "Fuck Yeah Troll Science."[5] On October 3rd, a thread titled "Troll Physics" was posted on the Newgrounds Forums[12], where its members were encouraged to create their own versions. The same day, a thread featuring several troll physics comics was started on the BodyBuilding Forums[14] by member Vorian. October 17th, YouTuber Cidwel uploaded a video titled "Troll Physics Explained – Today: Infinite Car Power!", showing footage of a functioning magnet car in the Nintendo DS game Scribblenauts.
On October 25th, the Internet culture blog Urlesque[8] published an article by Will Zweigart titled "We Showed 'Troll Physics' Comics to a Physics Professor. Here's His Reaction", in which the New School natural science professor David Morgan explained the fallacies inherent in several troll science comics. On December 27th, the tech news blog Geekosystem[25] published a post titled "21 Vital Lessons in Troll Science", featuring a slideshow of notable examples of the comics. On January 30th, 2012, the app "Troll Science" was uploaded to the iTunes[26] store, including 90 troll comics for viewing on a mobile device. The meme has continued to spread on Memebase[7] and Tumblr[24] under the tag "troll science." As of July 2nd, 2012, a Facebook[27] page for "Troll Science" has accumulated over 27,000 likes.
Notable Examples




Search Interest
Search query volume for "troll science" and "troll physics" began rising in September of 2010, the same month the first comics were submitted to Reddit and 4chan.
External References
Facebook Comments