PROTIP: Press 'i' to view the image gallery, 'v' to view the video gallery, or 'r' to view a random entry.
This submission is currently being researched & evaluated!
You can help confirm this entry by contributing facts, media, and other evidence of notability and mutation.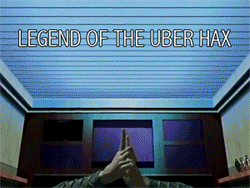 About
Uber Hax refers to a series of YTMNDs involving memorable fight scenes and real-world conflicts being reinterpreted as escapades in a Massively Multiplayer Online video game, musically accompanied with E.S. Posthumus's "Pompeii". 1337 Speak is commonly used along with terms commonly used in competitive gaming, and references to hacking the game itself is often prominent.[1]
Origin
The original YTMND, simply entitled "Uber New Hax", was created by user Bumbastic on July 31st, 2005.[2] It used footage from the 2002 film Spider-Man, and depicted a storyline in which Norman Osborn team-kills and bans his former Oscorp clan members after being kicked out of leadership duties (shown below). The YTMND went on to gather over 1,900 votes (with a site average of 4.21/5.00), over 160 favorites, over 450 comments, and over 260,000 views.[3]
Spread
The first variant of the YTMND fad was made by user Mojocoggo on August 16th, 2005, based on the 2003 movie Phone Booth.[4] The next day, Mojocoggo uploaded another site based on the first half of the film version of To Kill A Mockingbird.[5] During the month of September 2005, user Fyrestorm uploaded a duology of "Uber Hax" sites based on the Hurricane Katrina[6] and Hurricane Rita[7] disasters that had occurred earlier that year, eventually creating a director's cut that combined the two sites and added new scenes.[8] Eventually, on July 11th, 2006, user Nutnics created a site based on the fad that combined the 1988 anime film AKIRA with several other YTMND fads (shown below).[9]
Search Interest
External References
Recent Videos
There are no videos currently available.
Facebook Comments