PROTIP: Press 'i' to view the image gallery, 'v' to view the video gallery, or 'r' to view a random entry.
This submission is currently being researched & evaluated!
You can help confirm this entry by contributing facts, media, and other evidence of notability and mutation.

About
"When Did This Become Hotter Than This?" is an image macro series comparing two sets of photographs featuring celebrities or famous subjects from two distinct time periods or generations. What began as a commentary on the ever-changing definition of beauty across generations, eventually led to online debates regarding the controversial issue of body images and even expanded across areas outside of celebrities, such as cute animals and inanimate objects.
Origin
The first known instance of "When Did This Become Hotter" image compared modern female celebrities like Keira Knightly and Nicole Ritchie to 1950's era pin-up stars including Marilyn Monroe and Bettie Page. While the creator of the photo is unknown, the image entered circulation via Facebook sometime in early January 2012, making its way onto Twitter as early as January 16th when Yoga teacher Kathryn Budig tweeted[2] a link to the image.
embrace your bodies + curves!we're on the same team as our body--love it, treat it right and know you're beautiful. twitter.com/kathrynbudig/s…

— Kathryn Budig (@kathrynbudig) January 16, 2012
The first Tumblr instance was posted by Running Thin on January 14th[8], but it didn't gain momentum until a second instance was posted on the 19th[1], receiving nearly 400 notes in X period
Spread
The original image and its underlying messages were discussed at length between January 15th and 19th on health message boards and women's lifestyle blogs including MyFitnessPal[6], Blisstree[3], Womanist Musings[4], and Beauty is Inside.[5] On January 27th, progressive public policy advocacy group MoveOn.org[7] posted the original photo to their homepage as a public service announcement for eating disorders, inspiring lots of conversation on Facebook.
Notable Examples
A series of the derivatives were posted to Buzzfeed[9] on January 26th. Many of these images are collected on the Tumblr tags When Did This[10] and When Did This Become Hotter Than This.[11]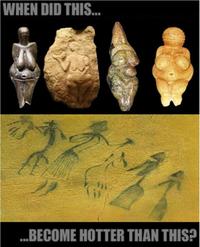 Search Interest
External References
Facebook Comments