ElevenLabs AI: How To Make Gaming Presidents Memes And Other AI Voices
AI Voice memes which have Joe Biden, Donald Trump and other presidents trash-talking each other in video games have been a top trend of February, but many of those trying to dip their toes into the making clips like these just don't know where to start.
But don't worry, because making presidents say silly stuff is much easier than you might think: all you have to do is to learn how to use ElevenLabs AI, one of the most popular AI voice generators. Stick with us for this five-minute guide and you'll be making your own clips of Obama 1v1ing Trump on Rust in no time.
Step One: Visit ElevenLabs And Create An Account
First things first, you have to visit ElevenLabs (here is a link that will take you there). Once you're on the website, click the "Sign up" button in the top right corner and sign up with your e-mail or with your Google or Facebook account.

Step Two: Get a Starter Subscription for $1
Once you are signed up, you will need to purchase the Starter subscription tier for $1 USD to access the features you need to create custom AI voices. To do that, click the button in the "Voice Lab" tab, or just visit this link directly. On the subscription page, choose the cheapest "Starter" tier, which will cost you $1 for the first month. Don't forget to unsubscribe if you are not planning to use the tool for longer than 30 days, as the website will continue charging you each month.

Step Three: Find Voice Samples
After subscribing, you will have to provide voice samples for the person whose voice you wish to clone. The website explicitly warns you that you can only upload samples of a person who consents to their voice being used. For the purposes of this guide, we will use Joe Biden and Donald Trump as our test subjects.
After you have successfully obtained Joe Biden's and Donald Trump's permissions, you will have to find samples of their voices online. You can find and download audio files of Joe Biden's and Donald Trump's speeches on Miller Center, which offers a large catalogue of MP3 recordings of presidential speeches. Download some from there or any other suitable source to your device in an audio file format such as MP3 or WAV.

Step Four: Create an AI Voice
In the "Voice Lab" tab on ElevenLabs, click "Add Instant Voice" button, which will produce a pop-up window where you can name your voice, drag-and-drop your audio files and add labels. Be mindful that you can only upload samples up to 10Mb each, so you might have to cut larger files with an external app such as Audacity first. Once you've uploaded your samples, click "Add Voice" to create your custom AI voice.

Step Five: Generate and Download Your Audio
Once your AI voice is created, you may now use it to voice text. For that, in the "Speech Synthesis" tab, enter any text you want your AI clone to narrate. You may use a popular copypasta, a famous dialogue, or get creative and compose something of your own. After you have entered the text, press "Generate" to create an audio file of the AI reading the text. You can then download the audio file it to your device for further use.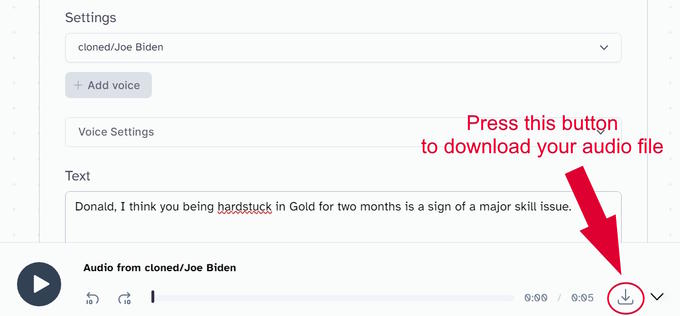 And that is it all you need to know about how to use the ElevenLabs AI. You can learn even more about the AI and how it works in our database entry about it.