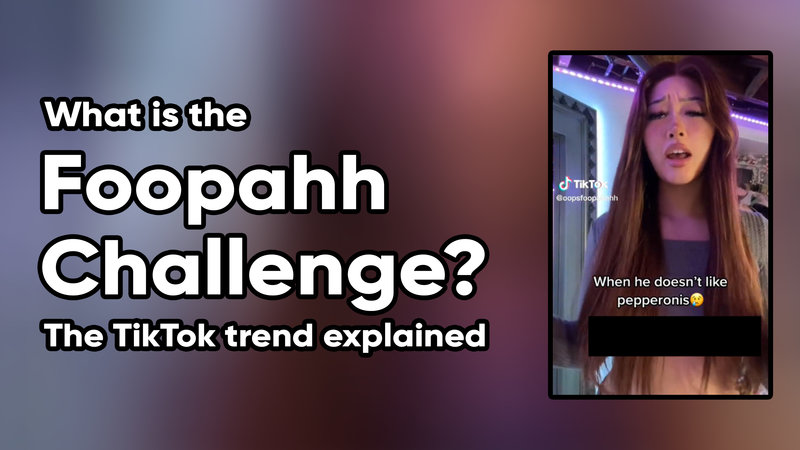 What Is The 'Foopahh Challenge?' TikTok's Flashing Trend Explained
An OnlyFans creator has sparked a spicy new challenge on TikTok that's exposed a surprising hole in TikTok's moderation. The trend is known as the foopahh challenge and women across the platform are risking their accounts to take part in it for those juicy likes and follows. Here's an explainer.
What Is The 'Foopahh Challenge?'
In January 2023, TikToker and OnlyFans creator Foopahh, who has had many accounts on the site, most of which are now banned, started posting videos where she "discretely" flashes the camera in a way that avoids TikTok's auto-moderation bots.
Methods include standing far away in a dark corner and flashing, reflecting a flash in a mirror, hiding the majority of her breasts behind her long hair and, most popularly, hiding behind a door and peeking her breast from behind it for a moment before emerging fully dressed.
These videos started to gain increased attention in February, when other creators on the platform, mostly OnlyFans models, started using the methods for their own virality. The "behind the door" method became the most popular method. The TikTok algorithm started pushing these videos onto the For Your Page, sparking a massive viral trend.
How Is The 'Foopahh Trend' Used Online?
Many women have started participating in the trend since it blew up, some of their videos remaining on the platform for weeks without being taken down. Others haven't been so lucky and have been removed from TikTok entirely. This has inspired horned-up viewers to save as many of the videos as they can and reupload them to sites like Twitter and the /r/TikTokFlashing subreddit, which boasts over 2,000 members.
Those who aren't participating in the trend have been posting videos expressing shock over it, many surprised that it's managed to get past TikTok's moderation for so long, which does not allow nudity. While some OnlyFans creators are thrilled with the trend, others are worried about the aftermath of the trend, concerned it will only make the platform more strict on creators.
---
For the full details on the Foopahh Challenge, be sure to check out our entry on the meme here for even more information.