Where Did The Photo Of Pope Francis In A Big White Puffer Come From? The 'Pope Francis Drip' Meme Explained
A picture of the Pope wearing the perfect Moncler puffer is going viral after it took people a little bit too long to realize that it wasn't in fact real. The image was shared far and wide on social media in late March 2023, with some expressing worry about what the image means for truth in light of an impending AI-driven world. Here's a recap of what many are calling Pope Francis Drip.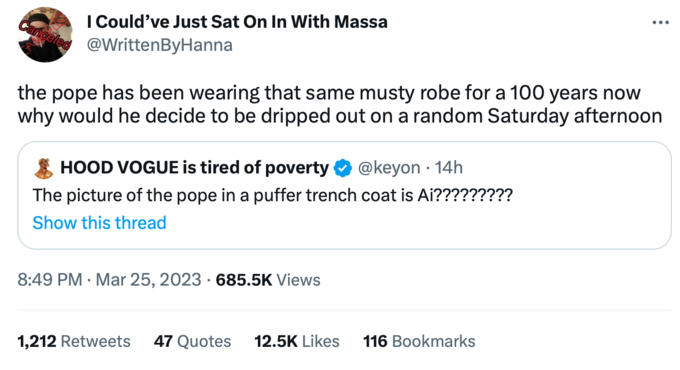 What Is The Doctored Image Of Pope Francis That Is Making The Rounds?
On March 24th of 2023, a Redditor posted an image of Pope Francis wearing a giant white puffer to the subreddit /r/Midjourney. For those not in the know, Midjourney is a tool that uses artificial intelligence in order to create images and art from descriptions written in natural language. The next day, a Twitter user posted the same image with the title, "OKAYYY."


What Did People Think About The Pope Being Dripped Out?
Since the photo of the Pope in the puffer was initially posted to Twitter without context, many people took the image to be real. Opinions about the Pope's "new look" were generally very favorable, with people saying that he looks like he's about to drop the hardest hip-hop album ever, to people saying that he looks like the pastor of Justin Bieber's church.


Other people were more worried about how believable the image looked, with Chrissy Teigen expressing concern about what this means for AI art that's uncredited as such.

In general, people were more amused by the image than they were worried, mostly because anyone with two brain cells to rub together can figure out that the Pope is not likely to switch up his look to something like the photo, no matter how drippy it is.




---
For the full history of Pope Francis Drip, be sure to check out our entry on it here for even more information.