This submission is currently being researched & evaluated!
You can help confirm this entry by contributing facts, media, and other evidence of notability and mutation.
About
8938, also known as Honestly the Best Feature of iOS, refers to a specific iPhone screenshot showing a text code from messages (8938) that's red-circled. The screenshot was used in viral tweets and memes that read, "Honestly the best feature in iOS," inferring that the "code from messages" iOS feature is a helpful one. After the original tweet that used the screenshot went viral in 2021, many Twitter users posted copycat tweets that used the same screenshot and caption, trying to go viral on their own. More often than not, the copycat tweets would go viral too, due to the objective relatability of the tweet's belief. However, the blatant stealing of the "8938" screenshot in every tweet led to backlash, and ultimately, ironic and satirical usage that made fun of the meme stealers and their unoriginality that alluded to clout chasing.
Origin
On January 15th, 2021, Twitter[1] user @rovenskyalcin tweeted, "Honestly the best feature of iOS," and attached an iPhone screenshot that showed a verification code from his messages reading "8938" that automatically appeared for his convenience. The tweet gained massive engagement, earning roughly 1.4 million likes in two years (shown below).

Spread
In the days that followed, the tweet gained multiple copycats, such as one sent by verified Twitter[2] user @BeverlyHillsCEO on January 16th, 2021, gaining over 100 likes in two years. A few months later, on July 1st, 2021, Twitter[3] user @Ohluwatoscene posted a copycat tweet with the same "8938" image and caption, gaining roughly 252,100 likes in two years (shown below, left). On October 19th, 2021, Twitter[4] user @ellagat0rr also posted a copycat tweet that used the exact same format, receiving roughly 10,500 likes in a year and a half (shown below, right).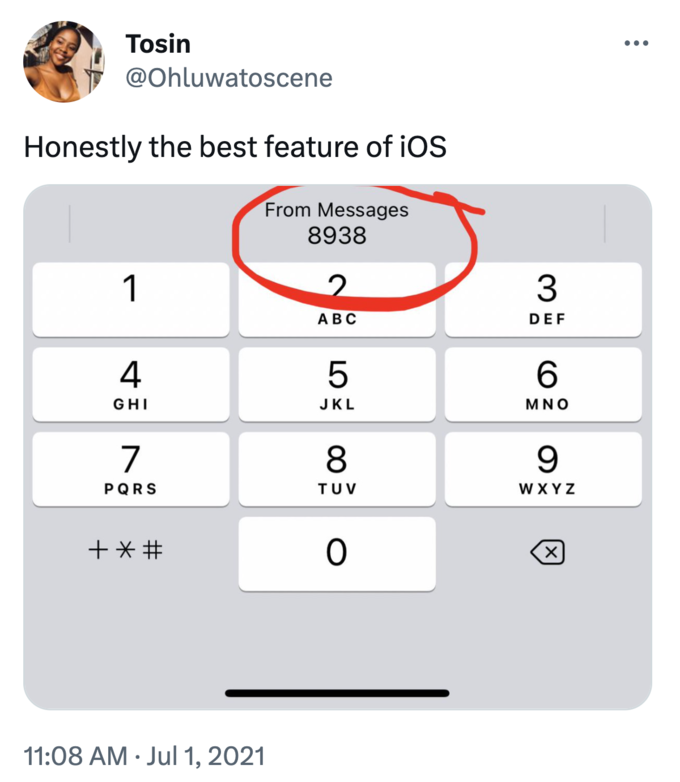 After @Ohluwatoscene's July 2021 copycat tweet,[3] Twitter users started to make fun of people who used the "8938" screenshot and blatantly copied @rovenskyalcin's original tweet.[1] This practice started on July 8th, 2021, when Twitter[5] user @ItsLumberzack posted a tweet that highlighted multiple tropes perpetuated by copycats, including the "8938" screenshot. The tweet gained roughly, 1,400 likes in two years (shown below, left). On January 25th, 2022, Twitter[6] user @killmefam also made fun of the copycats in a tweet that received roughly 1,800 likes in one year (shown below, right).


Viral ironic usage of the "8938" screenshot persisted into early 2023.[7]
Various Examples






Template

Search Interest
External References
Recent Videos
There are no videos currently available.