Editor's Note: This entry contains minor spoilers for the Need for Speed film
About
Aaron Paul Screaming is a face made by actor Aaron Paul playing Tobey Marshall, in the 2014 film adaptation of the game franchise Need for Speed. It has become a popular reaction image, particularly on Tumblr in situations where it looks like something cute will be hurt.
Origin
Need for Speed was released on March 14th, 2014 in the United States.[1] Near the beginning of the film Tobey and his partner, Little Pete, tries to win a race to pay off a debt. Little Pete ends up being killed during the race. The face is Marshall's reaction to the crash.[2][3] It was captured by MundaneWarrior blogger Jack Forey in a review posted March 20th of that year (shown below).

Spread
One of the first posts to use the image as a reaction image meme was posted to Imgur[4] with an iFunny watermark on May 25th, 2016 with the caption "When u drop an m&m and your dog starts running towards it" (shown below). It began spreading on Tumblr shortly after after it was posted without the watermark by user Nintendoesnt, though the original post is since deleted. It has accumulated over 220,000 notes.[6] Several months later, on January 31st, 2017, the same image would be posted to me_irl[5] and gain over 1,500 points.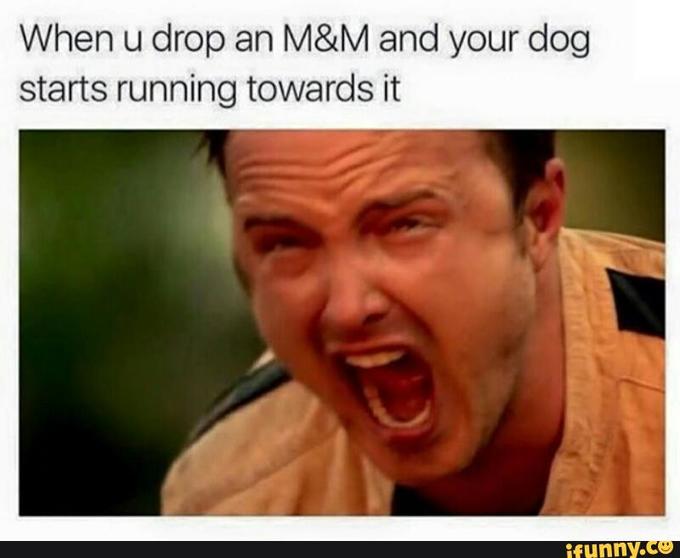 Meanwhile, the image appeared in various other popular posts on Tumblr. For example, a popular post by Tumblr user kramergate[7] used the image with the caption "when youre watching chopped and someone says theyre gonna use the ice cream machine", gaining over 50,000 points (shown below, left). Another popular usage of the image put it in reaction to cute characters and animals in dangerous situations. For example, a picture of a Jenga game appearing to fall onto a dog paired with the image posted by theweirdwideweb[8] on August 9th, 2017, gained over 6,000 notes.


Various Examples






Search Interest
Unavailable
External References
Recent Videos
There are no videos currently available.