About
Abu Hajaar is the jihadist name of an Islamic State militant repeatedly heard in an unedited video clip of a deadly skirmish between a group of ISIS fighters and Kurdish troops that was captured on a headcam by one of the jihadists and later released by VICE News in late April 2016. After the video went viral on the Western social media, many viewers began referencing the name as a way to poke fun at the incompetency of ISIS combatants in the battlefield.
Origin
On April 27th, 2016, VICE News[1] released a video clip that shows a group of four Islamic State fighters struggling to hold their position and arguing with each others during an attack against the Kurdish troops in a disputed territory 30 miles north of Mosul, northern Iraq, before the group eventually decides to retreat (shown below). Within the first 72 hours of upload, the video on VICE News YouTube channel garnered over 2.2 million views.
The dramatic footage, which was captured on a headcam worn by one of the jihadist fighters who ultimately died during the firefight, begins with a band of ISIS fighters loading into several modified armored vehicles to stage an ambush assault against Kurdish troops, though their maneuver is quickly suppressed by enemy rocket fires. As the Kurdish troops continue to put pressure on the group of visibly inexperienced and disoriented jihadists, an argument breaks out as they struggle to use an arsenal of weapons inside the truck, especially one militant who goes by the name "Abu Hajaar." After repeated failed attempts at returning fire, the fighters begin to retreat from the battlefield, during which the cameraman is fatally shot.
Spread
That same day, the video footage was instantly picked up by several news media outlets[3][4][6][7], many of which commented on its rare depiction of chaos, fear and frustration among the Islamic State fighters on the battlefield, in stark contrast to the often heavily-edited footages of militants celebrating their victories featured in propaganda videos.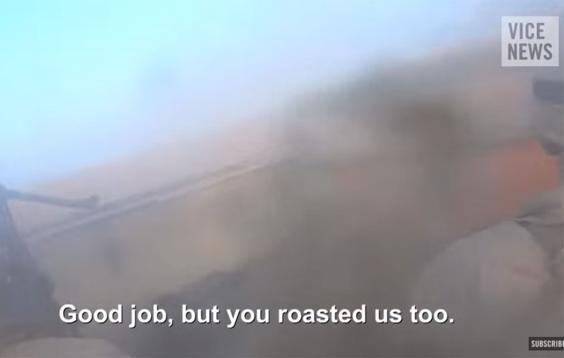 Meanwhile on Twitter[2], many viewers began mentioning the name "Abu Hajaar," one of the fighters who is repeatedly called out by others in frustration as he struggles to hold on to his weapon properly, while others drew humorous comparisons between Abu Hajaar and other characters who notorious for their clumsiness, such as Leeroy Jenkins. Also on April 27th, "Abu Hajaar" and his incompetency in combat was discussed in at least 35 unique threads across various boards on 4chan[8], most notably on /k/ (weapons), /pol/ (politically incorrect) and /int/ (international).
Search Interest
External References