Allow Us To Introduce Ourselves
About
Allow Us To Introduce Ourselves refers to an image macro featuring a screen capture from the American animated television series VeggieTales. The image, which features three anthropomorphic scallions saying the phrase, has been used as the punchline to various jokes.
Origin
On July 21st, 1998, the VeggieTales episode "Madame Blueberry" aired. In the episode, three salesman known as the Scallions attempt to manipulate the character Madame Blueberry with a song, which begins "allow us to introduce ourselves."[1]
Nearly 10 years later, YouTuber Classic VeggieTales Fan uploaded a clip from the episode with the song, including lyrics. The video (shown below, left) received more than 100,000 views in a year and a half.
The following year, Memedroid[2] user RexRapt0r posted an image macro of the Scallions saying "Allow us to introduce ourselves" that jokes about the stereotype of Indian men approaching young women online. They captioned the image, "40 year old indian men after spotting a 14 year old Instagram model." The post (shown below, right) received more than 1,100 votes (83% upvoted).

Spread
The following day, Redditor [3] jinhobrine0017 posted the meme on the /r/MemeEconomy subreddit. The post received more than 13,000 points in three days.
That day, Redditor[4] The_Salty_Cat posted a variation on the /r/dankchristianmemes subreddit. They captioned the post, "Spanish missionaries when they spot some natives to convert." The post (shown below) received more than 13,000 points (95% upvoted) and 95 comments in three days.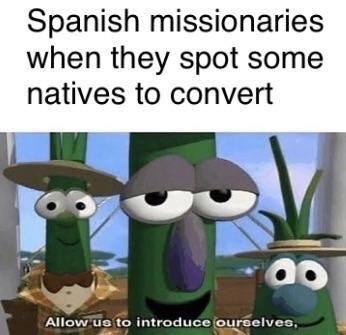 Various Examples






Search Interest
External References