Angela Merkel and Barack Obama at G7 Summit
This submission is currently being researched & evaluated!
You can help confirm this entry by contributing facts, media, and other evidence of notability and mutation.
About
Angela Merkel and Barack Obama at G7 Summit refers to a photograph of the two heads of state having a conversation to the picturesque backdrop of the German Alps during the 41st meeting held in Schloss Elmau, Krün, Bavaria, Germany on June 7th, 2015. Upon entering online circulation, the photograph quickly became a subject of a photoshop meme on Twitter.
Origin
On June 8th, Reuters photographer Michael Kappeler[1] captured a photograph of the United States president Barack Obama and German Chancellor Angela Merkel in the midst of a conversation outside the Elmau Castle in the Bavarian region of Germany during the 41st Group of 7 (G7) summit.

Spread
That same morning, White House photographer Pete Souza tweeted a similar photograph taken from a wider angle, garnering more than 400 retweets and 360 favorites in less than a day. Within hours of the image surfacing on Twitter, the image instantly spawned several jokes alluding to The Sound of Music, Angela Merkel's gesture evocative of the catchphrase "come at me, bro" and President Obama's "manspreading" posture.



Also on June 8th, Redditor Kafklan submitted the photograph to /r/PhotoshopBattles in a thread titled "PsBattle: Angela Merkel and Obama at the G7 summit in Germany," which gathered more than 4,200 points and over 60 photoshopped parodies within the first 24 hours. Throughout the day, the photoshop fad on Twitter was picked up by various European and U.S. news outlets, including the Daily Mail[2], Mirror UK[4], ABC News[7] and BuzzFeed.[3]
Various Examples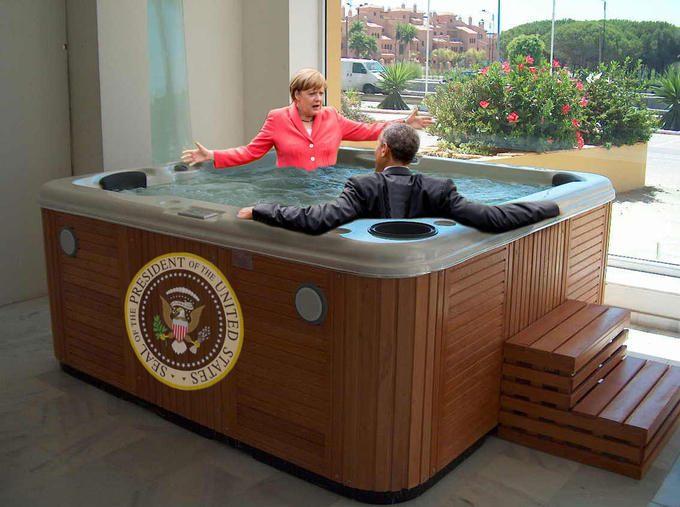 Search Interest
[not available]
External References
Recent Videos
There are no videos currently available.