About
Apology Cakes refer to confectionery goods that are gifted as a way of apologizing, often for having done something mischievous or trivial in nature. On Tumblr, people often superimpose a custom apologetic message over the cake's surface in Comic Sans typeface.
Origin
In April 2003, an apology cake (shown below, left) appeared as an Easter Egg in a flash animation that was part of the Strong Bad Email series on Homestar Runner.[19] Though the cake was exchanged between the characters Strong Bad and The Poopsmith, the cartoonists created a physical cake that users could then add toppings to in the animation.[18] Photos of apology cakes exchanged offline have appeared online as early as June 2008 when Cake Wrecks[1] posted a picture of a cake with the custom message reading "sorry I'm so stupid" (shown below, right).


Spread
Throughout 2009, Cake Wrecks continued to post images of apology cakes[2] and in 2010, a viral image of a cake with the text "Sorry I got semen in your eye" began circulating the web, appearing on several image-sharing sites FunFoll[3], FoodBeast[4] and FunnyJunk[5] that year. In 2011, Buzzfeed[6] featured 20 photos of apology cakes from across the web, some of which were reposted on FunnyJunk[7] and Pop Hangover.[8] In 2011 and 2012, additional apology cakes appeared on the Examiner[9], Dorkly[10], Cake Wrecks[11] and College Humor.[12]
Notable Examples






On Tumblr
On December 20th, 2012, Tumblr user epictoasters[13] shared a photo (shown below, left) of a professionally decorated cake (shown below) with the phrase "sorry my tree fell on your fence" written in Comic Sans font overlaid over the photo. He explained that a neighbor had left the photo on his Facebook wall the morning after a night of powerful winds knocked over a tree into his backyard. Two days later, user tardistribute[14] posted an image using the same cake (shown below, right), apologizing for not tagging his fandom-related posts. His post gained more than 17,600 notes in a month and a half.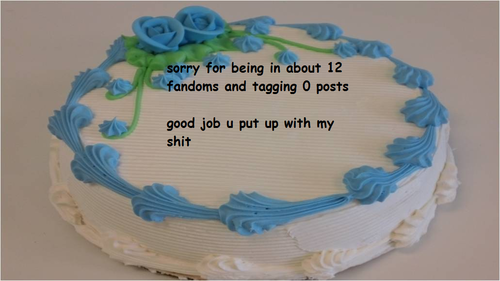 On February 3rd, 2013, that-stupid-tardis-sound[15] posted a photoset of ten apology cakes using a different professionally decorated cake template, apologizing for a range of blogging-related activities. Within fifteen days, this post gained more than 28,000 notes. Additional digitally edited apology cakes, including general sentiments as well as fandom-specific messages of concession, can be found with the Tumblr tags "apology cake"[16] and "apology cakes."[17]






Search Interest
External References
Recent Videos
There are no videos currently available.