CeeLo Green's Grammys Outfit
This submission is currently being researched & evaluated!
You can help confirm this entry by contributing facts, media, and other evidence of notability and mutation.
About
CeeLo Green's Grammys Outfit is a gold suit and mask worn by R&B singer CeeLo Green at the 2017 Grammy Awards. The outfit immediately was the target of jokes on social media.
Origin
At the 2017 Grammy Awards, which took place on February 12th, 2017, CeeLo Green dressed in an all-gold outfit complete with a matching gold mask. The outfit, shown below, was intended to bring attention to CeeLo's new performing persona, "Gnarly Davidson."[1]

On February 2nd, 2017, CeeLo explained the character in a cyptic message to XXL[2] that read:
"Look at me… LOOK AT ME! YOU DID THIS TO ME CEELO GREEN, YOU FUCKING IDIOT. BUT I LIKE IT, I'm actually…BETTER! Than you… than everyone! A karmikaze upon you! Vengeance is mine sayeth GNARLY DAVIDSON. P.S. TECHNOLOJESUS saves."
Spread
Immediately after images of CeeLo Green's outfit hit the internet, social media users, particularly on Twitter, began making jokes about it. Many of the jokes connected CeeLo's outfit to characters in pop-culture, like C-3PO.

Many websites included articles about CeeLo's outfit and the various jokes made about it in their Grammys coverage, including Daily Dot,[3] Cosmopolitan,[4] The Fader,[5] etc.
Various Examples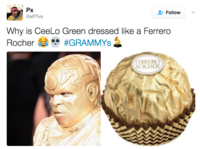 Search Interest
External References
Recent Videos
There are no videos currently available.