About
Combined GIFs refer to animated GIF images from different source materials that have been combined to appear as if they are from the same scene.
Origin
The earliest known combined GIF was uploaded to YTMND in 2005, which featured the character Obi-Wan in the 1999 film Star Wars Episode I: The Phantom Menace using his force push power to knock over a group of fainting goats (shown below).[1] The GIF subsequently spawned a YTMND series in which Obi-Wan knocks over a variety of subjects titled "Obi-Wan Hates".

Spread
On August 25th, 2008, YTMND[2] user fearcondom submitted a page titled "Segal leaves no child behind" featuring combined GIFs of actor Steven Segal shooting a gun with scenes of children being shot in the 2007 action comedy film Postal (shown below).

On August 28th, 2012, an Redditor papkn submitted a combined GIF titled "So I have combined these two gifs. The story is now complete" to the /r/gifs[3] subreddit, where it received more than 5,900 votes (97% upvoted) and 240 comments prior to being archived (shown below).

On November 10th, the /r/CombinedGifs[4] subreddit was launched for users to submitted examples of combined GIFs. In the next two years, the subreddit gained over 35,000 subscribers and 300 images. On October 8th, 2013, BuzzFeed highlighted several combined GIF examples.[5] On April 10th, 2014, Smosh[6] posted a compilation of notable combined GIFs, followed by Mashable[7] on May 25th. On June 25th, the Comedy Central late night show @Midnight aired a segment on combined GIFs (shown below).
Notable Examples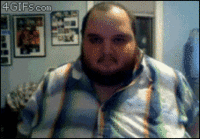 Search Interest
External References