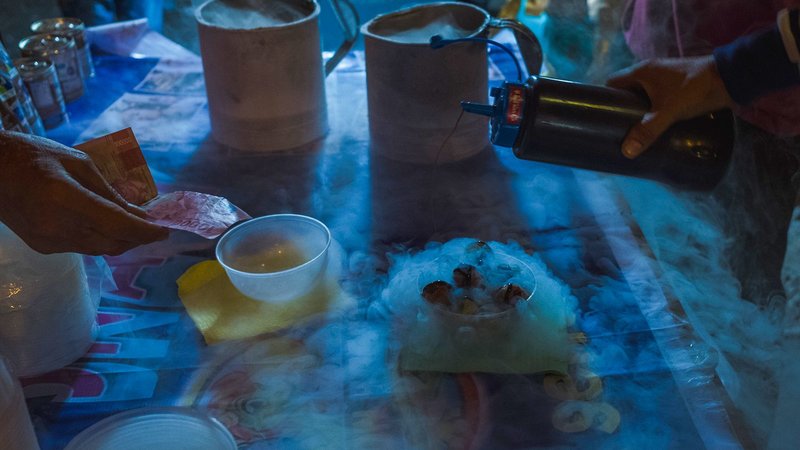 This submission is currently being researched & evaluated!
You can help confirm this entry by contributing facts, media, and other evidence of notability and mutation.
About
Dragon's Breath is a snack food consisting of liquid nitrogen-infused cereal balls that, when consumed, cause the eater to breathe out vapor. The eye-catching snack began gaining attention in the latter half of the 2010s, particularly on TikTok, with numerous videos of people eating it going viral online. However, medical professionals and the FDA have warned against consuming the product, and there are reports that those who tried it suffered serious injuries.
Origin
Dragon's Breath is said to have been created by Los Angeles and San Francisco-based food company Chocolate Chair.[1] On August 30th, 2016, the Facebook page for The Thrillist posted a video showcasing the treat (shown below). The snack is created by infusing cereal balls with liquid nitrogen, which are then dipped in a sauce.
Spread
The food began growing more prominent, particularly on social media, over the following years. On March 28th, 2018, YouTuber KC Connection posted a video showing the food, gaining over 21 million views in nearly five years (shown below, left). However, as the food grew popular, controversy began surrounding it as some people who consumed it reported injuries. On August 2nd, 2018, Inside Edition posted a news story on Dragon's Breath, highlighting a consumer who burned the inside of his mouth trying the product. The video gained over 12 million views in four and a half years (shown below, right).
News articles warning about the dangers of Dragon's Breath then appeared in the summer of 2018 in the New York Post[2] and the Daily Mail.[3] The FDA notably put out a warning against Dragon's Breath in September of that year.[4]
Despite the warnings, the food continued to be prevalent on social media and began growing prominently on TikTok. For example, on November 14th, 2018, TikToker itsryanshakes posted a video showing his awe at the product, gaining over 480,000 likes in four years (shown below).
The food remained popular over the following years, particularly overseas. On May 20th, 2020, TikToker row_timi posted a video of himself trying the snack, gaining over 152,000 likes in nearly three years (shown below, left). On August 8th, 2022, the TikTok account for Nitro Treatz, a store specializing in liquid nitrogen snacks, posted a TikTok of people trying Dragon's Breath, gaining over 1.2 million likes in five months (shown below, right).
In 2023, Indonesia joined the United States and issues a warning over Dragon's Breath,[5] saying 25 children have been hospitalized as a result of the snack.
Search Interest
External References
Recent Videos
There are no videos currently available.
Recent Images
There are no images currently available.