Warning: This page contains material that may be considered not safe for work.
About
Hentai Diffusion is the study and use of the Stable Diffusion system for the express purpose of creating hentai and other types of NSFW adult material like AI porn using prompts and image feeding for the AI generated artwork. Studied at the same time as Stable Diffusion's use for meme-related art, this sub-sect of AI art and research is dedicated to creating different types of fetish and Rule 34 material, particularly on the 4chan /hdg/ board.
Origin
With the advent of Stable Diffusion, a new genre of AI art research spread online in September 2022, prompting a post on 4chan about the practical applications and potential that this would have. The thread, called "Hentai Diffusion General" (tagged /HDG/), was started on September 7th, 2022,[1] and features several links to different resources on how to get started, as well as showcasing several rough-looking attempts at generating hentai using Stable Diffusion (shown below).

Spread
Continuing into the following days on 4chan's /hdg/, a new Hentai Diffusion General thread would be created with the same few links, until the thread on September 15th, 2022. On September 15th,[2] the Hentai Diffusion General thread kicked off a slew of AI-generated hentai artwork, as the general thread went from posting a few sources to help out to an entire local install of the technology, cloud hosting, guides on how to upscale and change textures, further tools and even mods that were made to help other users create their own variations (shown below). This stems from the fact that Stable Diffusion and other AI drawing systems outright deny a prompt that involves real people, or certain keywords, which could create something explicit.

Looking at the art from the first couple of threads and comparing them to the September 15th thread when the wider audience of Hentai Diffusion researchers obtained more tools and mods and started to share their work more, the execution in perceived quality of prompts and images displayed was notably higher. One of the tools used during this was "img2img," which allows an image to be fed to the machine, then slightly altered using the AI, which will then generate an image[3] back that is identical to the original, except for the changes prompted (shown below).

In the original thread on September 7th, 2022, an anonymous 4chan user posted an AI-drawn version of a witch character, calling it "red headed girl wearing wizard costume and hat" (shown below, left) that when directly compared to its counter-part witch picture from the September 22nd, art piece "witch, pretty, clavicle, cleavage" (shown below, right) shows a stark difference in terms of trying to make the art look natural and similar to what a real person would see and draw, effectively showing how fast the technology and people using it are improving and sharpening their skills.


Various Examples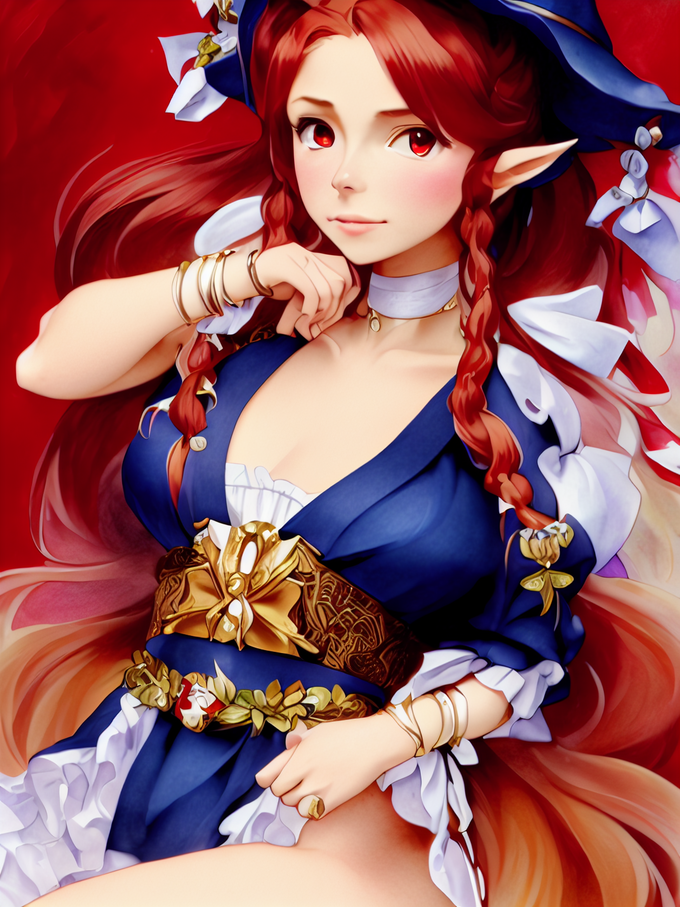 Search Interest
External References
All Videos
This gallery contains videos that may not be suitable for public viewing.
All Images 63 total
This gallery contains images that may not be suitable for public viewing.