Warning: This page contains material that may be considered not safe for work.
About
AI Porn or AI-Generated Porn refers to online pornography made with AI art generators like Stable Diffusion, among others. Images of women, girls and female pornstars generated by artificial intelligence started surfacing on Reddit and Twitter, predominantly inspiring discourse and memes in January 2023. Most of the AI porn images were made by the group Unstable Diffusion on Reddit (/r/unstable_diffusion) and Discord in 2022 and 2023. AI porn memes and reactions centered on the possible repercussions of AI porn in the future based on the subjectively otherwordly hotness of the AI porn girls that alluded to high body standards, the concept of AI porn competing with OnlyFans models and the possible repercussions of such adult content on specifically Zoomers and Gen Alpha. Additionally, many reactions centered on deepfake porn, which is somewhat related.
History
Deepfake Porn
Deepfakes are videos in which the subject is face-swapped using machine-learning algorithms. The practice was created by Redditor Deepfakes, who launched a dedicated subreddit[1] to share the videos in November 2017. The subreddit has since been banned, however, the technology remained prevalent going into the early 2020s, inspiring many trends and internet phenomena.
One such trend was DeepNude which was a deepfakes application that allowed users to alter photos of a person to make them appear nude. The app was made in June 2019. It uses a pix2pix open-source algorithm to analyze the input image, identify clothing and remove it, replacing it with a generated image of a naked body. The algorithm was trained on a dataset of over 10,000 nude photos of women.[2]

Unstable Diffusion
Starting in August 2022, a group of Stable Diffusion artists and users started a collective called Unstable Diffusion that was dedicated to realistic and anime-style images of nude characters.[4] Discourse about Unstable Diffusion first surfaced on 4chan. Currently, the earliest known 4chan post to mention "Unstable Diffusion" was posted to /h/[5] on August 21st, 2022. The post was part of a thread[6] that started with one anon saying, "Third day of the journey to generate waifu porn" (shown below).

On September 7th, 2022, a thread[7] called "Hentai Diffusion General" (tagged /HDG/) was started and featured several links to different resources on how to get started, as well as showcasing several rough-looking attempts at generating hentai using Stable Diffusion (shown below). The post started the Hentai Diffusion culture in AI art. The thread also linked the still-active Discord[3] server for Unstable Diffusion which ultimately became the main hub for AI porn following its early, niche influence on 4chan's /h/ and /pol/. [8]

On September 26th, 2022, the Unstable Diffusion subreddit, /r/unstable_diffusion,[9] was created. The subreddit became a new hub other than the Discord[3] server in which Stable Diffusion users could share explicit, AI porn. For instance, the most-upvoted post in its four-month history was uploaded by Redditor[10] testsubject444 on November 14th, 2022, gaining over 520 upvotes in two months. The post included ten AI-generated images of nude women taking selfies in lingerie (censored examples shown below).

On November 17th, 2022, Tech Crunch[4] writers Kyle Wiggers and Amanda Silberling published an article about Unstable Diffusion titled, "Meet Unstable Diffusion, the group trying to monetize AI porn generators." Tech Crunch interviewed multiple people involved with Unstable Diffusion such as Arman Chaudhry, one of the members of the Unstable Diffusion admin team, who told Tech Crunch:
In just two months, our team expanded to over 13 people as well as many consultants and volunteer community moderators. We see the opportunity to make innovations in usability, user experience and expressive power to create tools that professional artists and businesses can benefit from.
Tech Crunch also included a quote from Unstable Diffusion Discord mod AshleyEvelyn in its article that was taken from an announcement post in the server posted by them in August 2022. It read:
Basically, we're here to provide support for people interested in making NSFW… Because the only community currently working on this is 4chan, we hope to provide a more reasonable community which can actually work with the wider AI community.
Overall, Tech Crunch highlighted Stable Diffusion as:
A place simply for sharing AI-generated porn -- and methods to bypass the content filters of various image-generating apps… Unstable Diffusion admins released a Discord bot to start. Powered by the vanilla Stable Diffusion, it let users generate porn by typing text prompts. But the results weren't perfect: the nude figures the bot generated often had misplaced limbs and distorted genitalia.
On December 9th, 2022, a post was made to /r/StableDiffusion[11] by Redditor OfficialEquilibrium titled, "👋 Unstable Diffusion here, We're excited to announce our Kickstarter to create a sustainable, community-driven future." The post received roughly 1,100 upvotes in one month.
Following
By January 31st, 2023, the Unstable Diffusion subreddit[9] had amassed roughly 19,400 members and the Unstable Diffusion Discord[3] server had amassed roughly 154,300 members.
Memes and Reactions
In January 2023, AI porn images from the /r/unstable_diffusion subreddit started generating discourse and memes on Twitter and elsewhere. The increased interest was predominantly started by Twitter[12] user heartereum on January 27th, 2023, with a tweet reading, "Apparently this picture and other are going viral on socials because women are SEETHING and debating whether these girls are AI generated 😂." The attached image showed four AI-generated women, and over the course of four days, the tweet received roughly 13,400 likes (shown below).

Twitter user heartereum added multiple replies[13][14] to their tweet on January 27th, emphasizing certain problems and scenarios that AI porn could create such as, "AI generated onlyfans for gullible idiots." Later on January 27th, 2023, Twitter[15] user heartereum posted another tweet showing four AI porn images with the caption, "It is SO over," earning roughly 14,600 likes in four days (shown below).

The tweets inspired mass engagement, reactions and memes from other Twitter users going into late January 2023. For instance, on January 28th, 2023, Twitter[16] user eddyiskongz posted zoomed-in screenshots of the AI girls' hands and fingers, highlighting inconsistencies by captioning them, "Who broke their fingers? Prob only give away its AI generated." The reply received roughly 1,500 likes in three days (shown below, left). On January 30th, 2023, Twitter[17] user no_earthquake tweeted a similar joke, writing, "zoomer raised on ai porn asking their partners to put on the extra fake fingers," and gained roughly 80,400 likes in one day (shown below, right).


It's SO Over
It's SO Over refers to parodies of a tweet by Twitter user @heartereum, who posted pictures of AI-generated softcore pornography with the caption "It's SO over," seemingly implying that AI would soon make the pornography industry obsolete. The tweet caused much discussion on the app, but many mocked the implied premise that AI would replace humans in pornography. Parodies of the tweet read "It's SO Over" and show a comically disfigured character in their picture, a reference to how AI still has trouble generating accurately-proportioned human beings.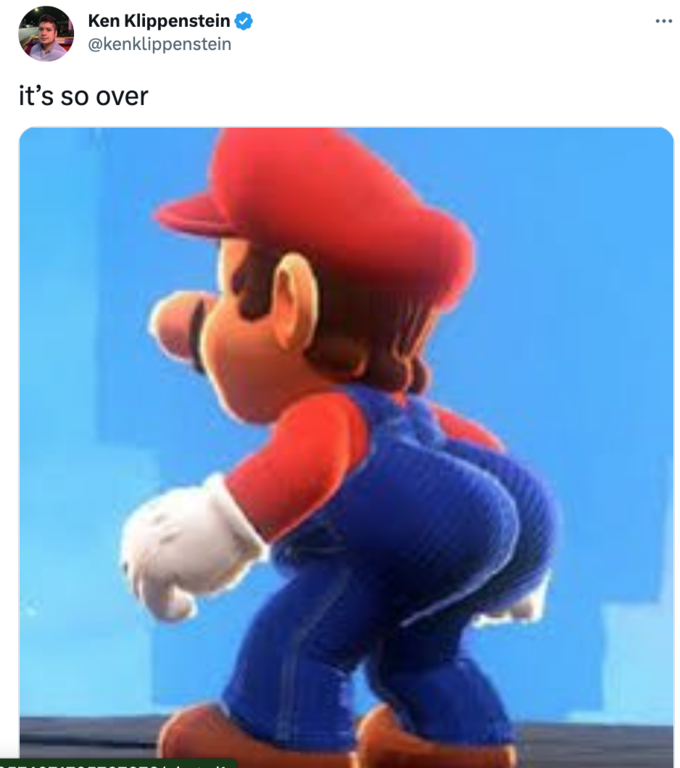 Search Interest
External References
All Videos
This gallery contains videos that may not be suitable for public viewing.
All Images 35 total
This gallery contains images that may not be suitable for public viewing.