2018 YouTube Headquarters Shooting
This submission is currently being researched & evaluated!
You can help confirm this entry by contributing facts, media, and other evidence of notability and mutation.
Overview
The 2018 YouTube Headquarters Shooting was a shooting incident that occurred at the YouTube headquarters in San Bruno, California in early April 2018, during which three people sustained non-fatal gunshot wounds. The suspect was later identified to be vegan activist YouTuber Nasim Aghdam, who was found dead at the scene from a self-inflicted gunshot wound.
Background
On April 3rd, 2018, a shooting occurred at the YouTube headquarters in San Bruno, California. Police responded to the scene to discover the suspect dead along with three people who had sustained gunshot wounds.
Developments
On Twitter
During the shooting, YouTube employees Vadim Lavrusik and Lil Chen tweeted that they were barricaded away from the shooter (shown below).[2][3]

Meanwhile, the @Google_Comms[6] Twitter feed tweeted that the company was "coordinating with authorities and will provide official information here from Google and YouTube as it becomes available."

That evening, Twitter CEO Jack Dorsey tweeted that the company was "tracking, learning, and taking action" against misinformation about the shooting (shown below).[10]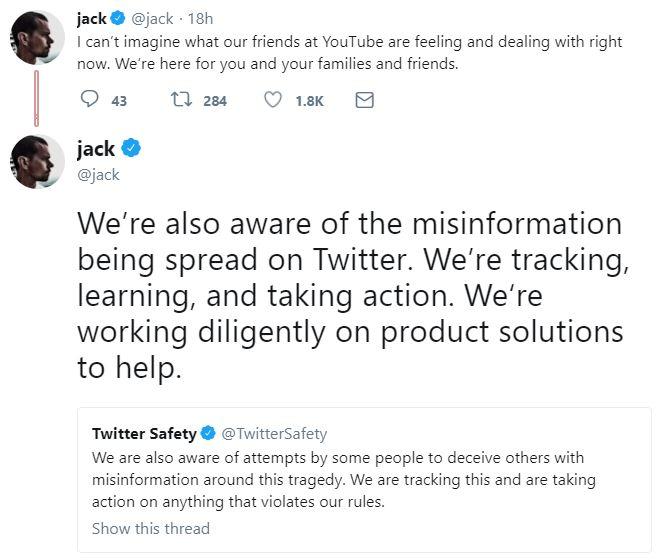 On Reddit
That day, Redditor wrtChase submitted a post about the shooting to /r/news.[1] The post gained over 50k upvotes and 14k comments within 8 hours.
Shooter's Identity
Meanwhile, ABC7[4] news reported that an unnamed police officer described the suspect as a "white, adult female wearing a dark top and head scarf." Later that day, TMZ[5] reported that there were "several reports" that the "female suspect is dead at the scene." That evening, San Bruno police identified the shooter as 39-year-old San Diego resident Nasim Najafi Aghda.[7]

After Aghdam's identity was revealed, her website NasimeSabz.com[8] was discovered, which featured a message accusing YouTube of "filtering" her channels "to keep them from getting views" (shown below).

On April 4th, Aghdam's videos began circulating online, though her YouTube and Instagram accounts were shut down (shown below).
Meanwhile, CBS Los Angeles broadcast a segment about Aghdam's YouTube videos, reporting that her father warned police about her grudge against the video-sharing site (shown below). In an interview with NBC News,[11] Adghdam's father said YouTube demonetized her videos, cutting off her source of income. That evening, Twitter user @FrexB[9] tweeted a thread highlighting many of Aghdam's videos.
Search Interest
External References