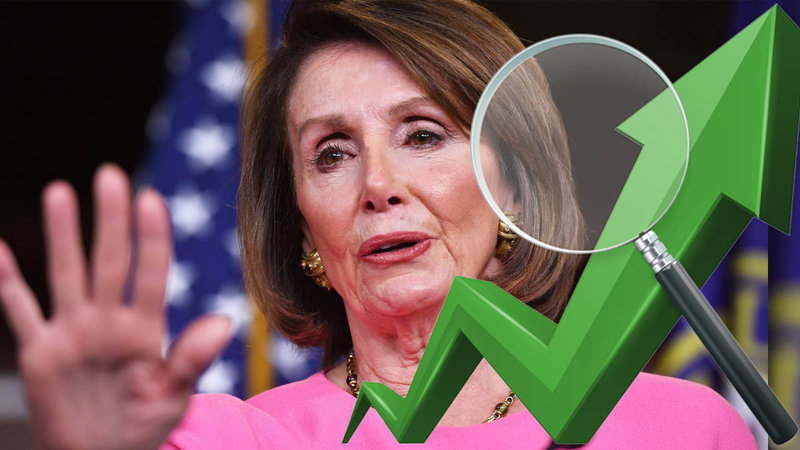 This submission is currently being researched & evaluated!
You can help confirm this entry by contributing facts, media, and other evidence of notability and mutation.
Overview
Nancy Pelosi Trades or Nancy Pelosi Insider Trading refers to a controversy surrounding Speaker of the United States House of Representatives Nancy Pelosi backing the accessibility of stock trading to active, federal officials despite allegations of insider trading, meaning that she, and other members of the government, have possible insider knowledge as to what stocks to buy and what stocks to sell, giving these representatives an unfair advantage. In late 2021 and early 2022, memes about the controversy appeared on a number of sites, particularly featuring Pelosi.
Online History
Awareness of Pelosi's support and involvement with insider trading started on platforms like TikTok as early as July 2021. TikToker[1] ceowatchlist, for example, uploaded a video on July 7th, 2021 (shown below), that received roughly 410,700 plays and 18,100 likes over five months. In the video, ceowatchlist refers to Pelosi as "the stock market's biggest whale" and further detailed how she invested approximately $11 million in specific tech stocks like Amazon and Apple, suggesting to his viewers that these stocks might be good to invest in as well.
Banning of Twitter Trackers
In December 2021, two different Twitter accounts that were dedicated to tracking what Speaker Pelosi was trading were mysteriously banned from the platform. As evidence of this, Twitter[2] account WOLF_Financial posted a tweet on December 9th that included a screenshot of the account @pelositracker being banned (shown below). The tweet received 527 likes in one month.

The suspension of both accounts led to suspicion across meme platforms. Twitter[3] user Cokedupoptions, for instance, tweeted a meme related to the topic on December 8th, 2021 (shown below). It received roughly 2,000 likes over one month.

Pelosi Supports Stock Trading For Federal Lawmakers
On December 15th, 2021, Pelosi was asked at a press conference whether or not federal lawmakers should be allowed to trade stocks given accusations of insider trading. Within her answer, she was quoted saying, "This is a free market and people should be able to participate in that." A recording from the town-hall-style meeting was posted to Twitter[4] by fintwit_news on the same day (shown below), where over the course of three weeks, it received a little over 2,000 likes.
JUST IN: Nancy Pelosi says members of Congress should be allowed to trade stocks.

She has a net worth of $120 million on a $220,000 salary.pic.twitter.com/TtPWblFfc9

— Fintwit (@fintwit_news) December 15, 2021
On December 16th, 2021, news outlets like CNBC[5] wrote articles about Pelosi's statements, citing opposing beliefs to Pelosi from other House Representatives like Alexandria Ocasio-Cortez. When tweeted[6] by journalist Glenn Greenwald on December 20th, the tweet received roughly 3,500 likes.
Towards the end of December going into January 2022, more tweets surfaced related to Pelosi's statements. Twitter[7] user ParikPatelCFA posted a tweet on December 30th, 2021 (shown below, left), saying in it how people should trade whatever Pelosi trades. It gained 13,100 likes over five days. Instagram[8] account notfinancialadvice__ posted a TIME Person of the Year Parody related to the controversy on January 3rd, 2022 (shown below, right). It received roughly 6,000 likes in one day.


Search Interest
External References
Recent Videos
There are no videos currently available.