Nurse Dancing to Patient Hyperventilating TikTok Controversy
Overview
Nurse Dancing to Patient Hyperventilating TikTok Controversy refers to a viral TikTok video of a nurse mocking a patient for faking their illness which was reposted to Twitter in November 2019 and sparked discussion around patient care. The video caused the trending hashtag #PatientsAreNotFaking which was used to discuss instances in which people weren't taking seriously by medical professionals.
Background
On November 19th, 2019, Twitter user @DamnDRoseTweets tweeted the TikTok she made which has recently been removed from TikTok (shown below). The tweet gained over 34,200 retweets, 128,600 likes and two million views in six days.
We know when y'all are faking 😂😂 pic.twitter.com/uBV9LjXN3W

— D Rose (@DamnDRoseTweets) November 19, 2019
Notable Developments
On November 19th, Twitter users began responding to the tweet by discussing situations in which their illnesses we not taken seriously by nurses. On November 20th, Twitter user @LoveJaylaAyanna[2] responded by saying "People really are offended by this tweet ? You gotta walk on eggshells in this generation 😒. Reading the comments this went from a joke to 'black woman die in labor all the time because of people like this' I wasn't even thinking that deep" (shown below, left). The tweet accumulated over 2,300 likes and 170 retweets in five days. The next day, Twitter user @harley_nu[1] replied by saying "I was seconds from fainting when a female 'medical professional' like this, ROLLED HER EYES. I honestly think that was the only thing that kept me from dropping because she enraged me. It took them 3 days to regulate my heartrate after they realized I was actually in crisis. smh" (shown below, right). The tweet garnered over 60 likes in four days.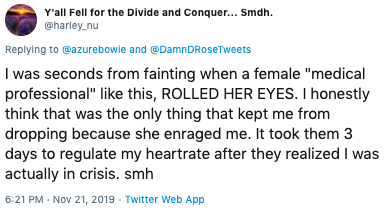 That same day, The hashtag #PatientsAreNotFaking began trending on Twitter. On November 22nd, @DamnDRoseTweets[3] responded to the backlash posted screenshots of death threats she received in her DMs (shown below, left). The tweet gained over 1,800 likes and 200 retweets in three days. She went on in a thread to explain that she has been a medical professional for five years and defended herself by saying that she loves her job. In another tweet @DamnDRoseTweets[4] wrote "I absolutely will not be bullied into apologizing or deleting a video because some people disagree with me. Thank you to those that have voiced their own disagreement with me yet understood that the intent behind something matters just as much as the content" (shown below, right). The tweet gained over 800 likes in three days.


Various Examples






Search Interest
External References
Recent Videos
There are no videos currently available.