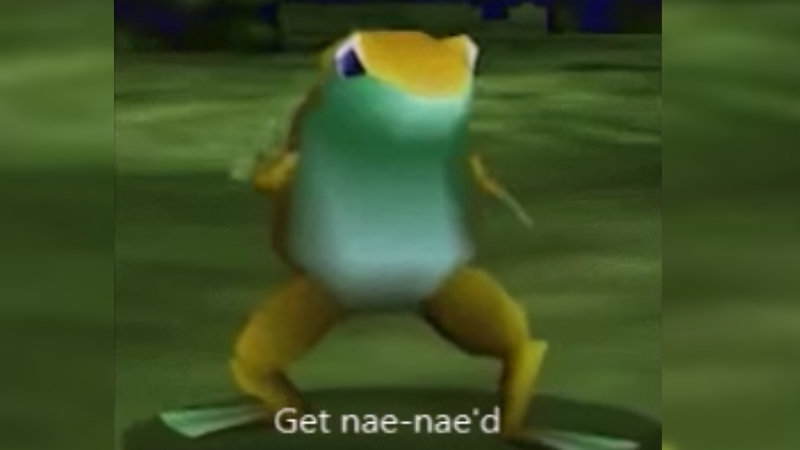 About
Get Nae Nae'd is a slang expression used to describe a victor in an argument. The phrase, a derivative from the Nae Nae dance, is generally used as a reaction image macro featuring the frog character Touch Me from the video game Final Fantasy VII.
Origin
The earliest known usage of the expression comes from a Reddit post by Redditor[1] n0xWave on May 30th, 2016. The image features a text argument between two parties overlayed atop an image of Danny Devito (shown below). The image ends with one of the participants saying "You just got Nae Nae'd."

Spread
On November 21st, Urban Dictionary [2] user Meme Scholar defined "Nae Nae'd" as "The act of getting or receiving a brutal memeing. A term used when roasting a boi, preferable usage would include when you prank this boi so bad he wants to kys himself." They go onto say that the term was coined by Danny Devito in 2009. However, that has not been confirmed
The following year on March 24th, 2017, iFunny [3] user helpfuls_aint_that_bad_2017 posted the text exchange without the overlay (shown below, left).
According to me.me,[7] an Instagram user posted an image of Touch Me from Final Fantasy VII with the phrase "Get Nae Nae'd" overlaid on its chest on April 21st, 2017. However, the Instagram post has since been deleted.


On May 28th, Redditor[4] JDuCalisson asked about the expression in the /r/OutOfTheLoop subreddit.
On June 16th, YouTuber LinklickZ posted a video of the character Touch Me dancing with the phrase shown at its feet. The post received more than 24,000 likes in less than two years (shown below).
On May 21st, 2019, Redditor[8] posted an image macro of Touch Me with the caption "When your little brother deletes your minecraft world, so you sell his vital organs in the black market." The post received more than 28,000 points (96% upvoted) and 130 comments in less than one year (shown below, left).
Days later, on May 30th, Redditor[5] T-DiePie posted a version with the caption, "When your mom whips out her belt but you pull out an ak-47." The post received more than 11,000 points (96% upvoted) and 50 comments (shown below, center). That day, Redditor[6] YeeheeBoiii posted the image with the caption "when ur uncle pulls out his cock, so u pull out your glock." The post received more than 8,500 points (96% upvoted) and 30 comments (shown below, right).



!
Various Examples






Search Interest
External References