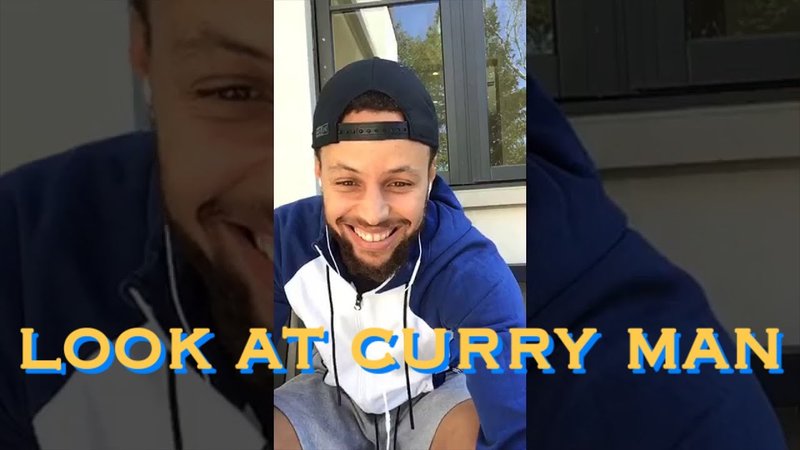 FlightReacts' "Look At Curry Man"
About
FlightReacts' "Look At Curry Man" is a memorable quote uttered by YouTuber and basketball enthusiast Flight, also known as Flight23White. During Flight's breakdowns of NBA games and players, he can often be seen using the quote "look at Curry man," particularly during compilations of Stephen Curry, a basketball player for the Golden State Warriors. The meme has become an inside joke among NBA fans and has since been recognized by both the Golden State Warriors and Curry himself in a viral video from April 2020.
Origin
While covering numerous NBA matches over the years in reaction videos, Flight commonly uses the phrase, "look at Curry man," sometimes with "look at Curry man, so inspirational," while observing Curry's performance on the court. On March 5th, 2020, Flight uploaded a video to his YouTube[1] channel titled, "LOOK AT CURRY MAN! FlightReacts Raptors vs Warriors – Full Game Highlights 2020," where he can be heard using the line right around the 2-minute mark (featured below) while watching the Warriors' game vs. the Toronto Raptors.
Spread
As fans and other NBA enthusiasts began taking notice of the frequent use of the quote, several people adopted the phrase and even created compilations of Flight saying it. One such YouTube[2] account, Da Spot To Laugh, uploaded a compilation of these on February 9th, 2020. The video (seen below) has since been viewed over 328,000 times and liked nearly 7,000 times.
On March 20th, 2020, the official Twitter[3] account for the Golden State Warriors also took notice of the phrase and used it in a caption. The tweet (shown below) features a series of images with Curry, receiving almost 20,000 likes and 3,400 retweets. In the replies below this, several Twitter users also responded with clips of Flight saying the quote from some of his streams.
Flight23White</a> <a href="https://twitter.com/StephenCurry30?ref_src=twsrc%5Etfw">StephenCurry30 W Tweet pic.twitter.com/awXg2otD6R

— J Mystic (@_jmystic) March 21, 2020
Steph Curry Acknowledges "Look At Curry Man" Meme
On April 3rd, 2020, during an NBA Instagram[4] livestream (seen below), Curry can be seen at his California home during the 2020 coronavirus pandemic/lockdown playing a game of trivia with several people. As he jumps between guests, asking various questions and checking in with people to see how they're doing, he pauses in-between around the 15:50 mark and says, "Look at Curry man, just trying to do great things in the world. You know what I'm saying? [laughs] I had to say it." Immediately after, numerous viewers flood the video with hearts, and the clip began spreading on social media.
Following the video and mention of the meme, Flight quickly uploaded a reaction video to his YouTube[5] channel on April 3rd, 2020, where he discusses Curry's acknowledgement. In the video (shown below), Flight is ecstatic to hear him use the phrase, but also asks people to stop with the "sus" memes. Since the upload, the video has received over 770,000 views and 55,000 likes.
In the following days, Curry can also be seen using the meme in other settings and posts on social media. On April 5th, 2020, Curry posted one such example on his Twitter[6] account where he used the caption, "Look at @AjLamonte man, so inspirational." The tweet (seen below) was viewed over 111,000 times, liked nearly 4,000 times and retweeted another 420 times.
Look at @AjLamonte man, so inspirational 🙌🏽 #stayunderrated https://t.co/uvhOIxzKKp

— Stephen Curry (@StephenCurry30) April 5, 2020
Search Interest
External References
Recent Images
There are no images currently available.