About
Giant Thumb Guy, also known as I Do Not Like That Thing, refers to a reaction image and exploitable image macro in which a group of people enthusiastically discusses a certain subject when a person outside the group comments negatively about the subject. One of the people in the group then proceeds to give them a thumbs-up before returning to the discussion. The image has been used to express disregard for unrequested opinions in a similar vein to Who Asked? Nobody Asked and Quit Having Fun. During summer 2021, a crude, hyperbolized remake of the original image gained popularity.
Origin
Prior to November 12th, 2010, Brazilian artist Caio "Furfles" Slikta posted[1] a three-panel cartoon in which a group of five people enthusiastically discusses something. A person outside of the group shouts "this blog sucks," with one of the people in the group giving them a silent thumbs-up to signal that they were heard. The group then returns to their conversation, ignoring the other person (original post no longer available).
On November 12th, 2010, Blogspot[2] user bloganguangu made the earliest found repost of the cartoon (shown below).

Spread
In the following decade, the image saw moderate spread online, particularly among Portuguese-speaking and Spanish-speaking users. For example, on January 17th, 2013, Desmotivaciones[3] user NeltharionVastoLorde posted a Demotivational Poster about atheism based on the meme (shown below, left). On March 24th, 2016, an edited version of the meme was uploaded to Imgur[4] (shown below, right).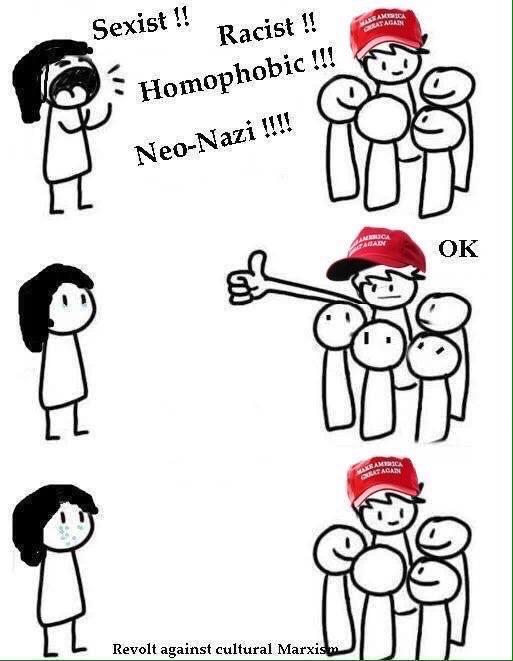 In 2019, a cropped version of the meme captioned "Ah, ya, en qué estábamos" gained popularity,[5] being used as a reaction image by Portuguese-speaking users (example shown below, left).
In spring 2021, the cropped meme saw a resurgence on Twitter and other social media, being used as a reaction to posts expressing their dislike for certain something (example shown below, right). For example, on May 3rd, 2021, Redditor[6] mahoney4321 made a post using the image to /r/liluzivert where it gained over 1,800 upvotes in four months (shown below, right).



Remake
On July 19th, 2021, Twitter[7] user @NekoHappix posted a crude remake of the original comic, giving the person in the second panel a comically large thumb and requesting others to post the original reaction image. The post gained over 5,300 retweets and 45,200 likes (tweet and image shown below, left and right).


On July 20th, 2021, Twitter[8] user @M0nkena made the first known tweet that used the remake as a reaction, with the post gaining over 50 retweets and 2,000 likes in two months (shown below, left).
In the following months, the image gained moderate popularity online as a reaction and source material for memes, largely replacing the original version. For example, on July 30th, Facebook[9] page Chaos Zweihander +10 posted a Dark Souls meme that gained over 330 reactions and 70 shares in two months (shown below, center). On August 30th, Facebook[10] page Young Thugga La Meme Season 2 posted a meme about Kanye West's Donda that gained over 2,800 reactions and 1,500 shares in one month (shown below, right).



Various Examples






Templates


Search Interest
External References
Recent Videos
There are no videos currently available.