About
Hippity Hoppity refers to a snowclone often paired with images of frogs that opens with "Hippity Hoppity" and ends with something that rhymes with "hoppity." The meme was most prevalent in the first half of 2017 and bears similarities to the You Mess With Crabo You Get a Stabo meme.
Origin
The snowclone first saw use in Anarcho-Capitalist memes. On January 17th, 2017, Facebook page "There's a War on For Your Memes"[1] posted one of the earliest variations which read "Hippity Hoppity get off my property" over a black and yellow frog, gaining over 300 likes and reactions (shown below).

Spread
Jokes fitting other political subcultures appeared in the following days depending on the color of the frog. For example, a painting of a red and black frog was posted to the /r/Anarcho_capitalism subreddit on February 4th, 2017, gaining over 50 upvotes (shown below, left). On March 8th, a photograph of a red frog was posted to /r/FULLCOMMUNISM, gaining over 400 upvotes (shown below, right).


The popularity of the meme got the attention of /r/MemeEconomy, and several posts there about the meme got popular. For example, a post referencing Bernie Sanders from March 19th, 2017, gained 90 upvotes (shown below, left). Over time, the memes moved away from political contexts. On March 17th, a post to /r/dankmemes using a frog gained over 170 upvotes (shown below, right).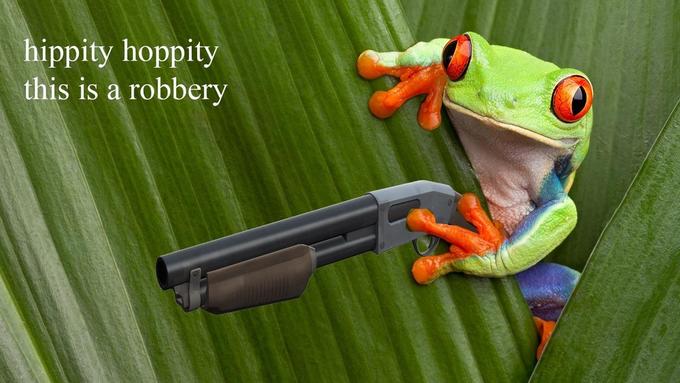 Various Examples






Search Interest
External References