About
"Horror Movie Logic" is an expression used to highlight unrealistic plot devices, irrational behaviors and other clichés that are often found in horror films. The phrase is often used mockingly in similar vein to other theme-specific satires like "video game logic" and "women logic".
Origin
The earliest known use of the phrase "horror movie logic" online can be found in a review for the 1999 horror film The Blair Witch Project posted on the Wiccan blog Witchvox[1] on November 5th, 2000. In the review, a scene where it is revealed that the protagonists failed to back up their research is referred to as "horror movie logic":
"With delicious horror movie logic, we learn they didn't back up their research on the computer: their only copy now lies strewn around the forest floor."
Spread
On March 5th, 2003, CHUD Forums[3] member billz used the phrase "horror movie logic" to describe moments in films where the viewer must suspend disbelief. On September 10th, 2009, the Internet humor site Cracked[5] published an article about dangerous predators, which suggested that termites operate on "horror movie logic" for being fooled by assassin bugs using termite corpses as bait. On October 25th, the Gawker Media science fiction blog io9[4] published an article mocking the Marvel Zombies comic for being riddled with "horror movie logic." On October 19th, 2011, YouTuber stewdippin uploaded a video titled "Horror Movie Logic," which listed several things he has learned to avoid based on watching horror movies (shown below).
On November 18th, an image macro was submitted to the /r/funny[7] subreddit, featuring a screen capture of the villain Michael Myers from the horror film series Halloween with the caption "No matter how fast you run / Michael Myers can run faster" (shown below). Prior to being archived, the post gained upwards of 2,400 up votes and 95 comments.

On August 26th, 2012, FunnyJunk[6] user oregamesss uploaded a rage comic mocking how characters in horror movies often split up when in danger (shown below).

On December 14th, Redditor thevuvuselanist submitted an image macro titled "Horror Movie Logic" to the /r/funny[2] subreddit, which pointed out how characters in films often remove their IVs after waking up in a hospital bed (shown below, right). Within four months, the post received over 1,000 up votes and 35 comments.

On October 15th, 2013, The YouTube comedy sketch channel Pixels Per Second released a video titled "HELL NO: The Sensible Horror Film" in which various characters escape their deaths by making rational decisions rather than conforming to the horror movie logic. Within the first week of upload, the video garnered more than 5 million views.
Notable Examples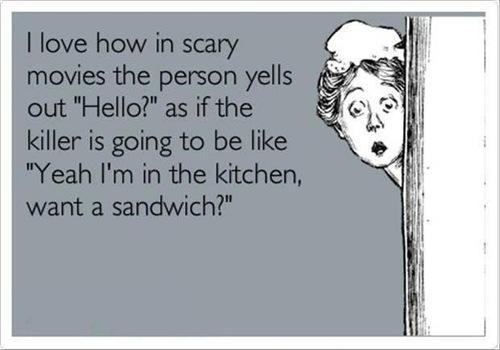 Rules of Survival in Horror Movies
There have been numerous websites that have listed the signs of being in a horror movie, as well as how to survive in a horror movie. These "signs" include children who speak about paranormal activity, local myths surrounding murder sprees, news media mentioning missing persons, and sudden changes in music.[8]
Locations also have an important role in horror movies. Cemeteries or any other places associated with death, religious temples, camping grounds and woods, small towns, abandoned buildings, small hotels, and hospitals have all been considered as locations where murderers are bound to show up.[8]
Actions taken by the characters in horror movies also seem to foretell their impending doom. One of the main actions that seems to cause the death of most people in horror movies is the engagement of sexual activity. Other actions that foreshadow a character's death include embarking into unfamiliar territory, consumption of substances, being the joker in the group, or any forms of the Occult.[8]
Rules and logic to follow in horror movies have followed mostly the same pattern in many horror movies. Websites such as Cracked have submitted rules and guidelines for anyone that should find themselves "trapped" in a horror movie. These rules include never heading towards sounds or screams of help, always expecting the killer behind them, never helping people up to their feet if they should trip, and never relying on cars. Other horror movie logic submitted by Cracked include certain groups of people that have little to no chance of surviving horror movies (Jocks, Jerks, Bullies, Slutty Girls, Goths, Minorities, Stoners, Guys in Plaid Shirts, Emergency Service Workers), killing those who act suspiciously, never splitting up, never interacting in any way towards the killer, and never assuming the killer is dead.[8]
Search Interest
External References