How To Make a Cute Dress Out of Shorts
About
How To Make a Cute Dress Out of Shorts is a photo fad in which the participant takes a photo of oneself wearing a pair of gym shorts as a one-sleeved dress. The fad is reminiscent of How To Wear a Men's Shirt, as many of the participants are males co-opting a female style of dress.
Origin
On September 6th, 2013, Tumblr user chronicallylate[1] posted a photo set titled "How To Make a Cute Dress Out of Shorts," which demonstrates how to turn a pair of gym shorts into a women's dress in a three-step process. The post was subsequently featured on Tumblr's staff-curated LOL tag, receiving more than 343,000 notes within the first 72 hours.



Spread
As Chronicallylate's photo set began making rounds on Tumblr, several male bloggers like glitterweave[2] and silversora[3] chimed in with their own selfies in gym shorts dress (shown below, middle and left). On September 8th, several photographs of men wearing gym shorts dresses were compiled into an Imgur album and shared on /r/Funny,[5] though it was met by lukewarm responses and mostly negative comments. Three hours later, Redditor Jooord reposted the same compilation to /r/Funny,[4] where it instantly racked up 43,674 upvotes, 2,425 points overall and 1,928 comments in less than 24 hours. Soon, both male and female Redditors began trying out the look for themselves in the comments.



Also on September 8th, humor blog Tastefully Offensive[6] reposted the images from chronicallylate's original Tumblr post, gaining more than 11,000 notes within 17 hours. Throughout the day, The Daily Dot[7], Buzzfeed[8] and Gawker[9] shared collections of these gym shorts dresses photos from both Reddit and Tumblr.
Notable Examples






Turtleneck Dresses
On September 18th, Redditor SarahPanda submitted a step-by-step instructional post titled "making a dress out of a turtleneck" to the /r/pics subreddit,[10] which was accompanied by a series of selfies demonstrating the procedure.

The post generated more than 3,500 comments in less than 10 hours of submission and even inspired a few male Redditors to share photos of themselves sporting the dress in the thread. Later that day, The Daily Dot[11] reported on the offshoot trend in an article titled "Dudes in turtleneck dresses leave little to the imagination."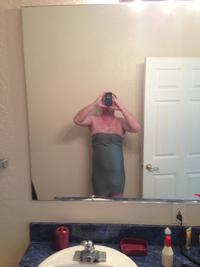 Search Interest
External References