About
Photo Fads are staged photos in which the subject poses in a specific manner, often for the purpose of sharing the picture online. Beginning in 2011, several fads were named with the "-ing" suffix after planking, a variation of the lying down game, became a popular photo game on the web.
History
An early camera pose fad involved the V sign hand gesture that had several different meanings in various parts of the world. According to Wikipedia[1], a popular legend claims the "two-fingered salute" came from English longbowmen showing off their arrow-shooting fingers after winning a battle against the French who had threatened to cut off their digits. The first evidence of the pose being used as an insult comes an image of a 1901 worker gesturing toward a cameraman to indicate that he did not appreciate being photographed. British politician Winston Churchill famously used the gesture as a victory sign that was later co-opted by U.S. President Richard Nixon.


The sign has been used as a prank by placing two fingers behind someone's head without their knowledge. One of the earliest examples of this comes from the painting Actors of the Commedia dell'Arte by François Bunel the Younger, a 16th century French history painter. It is often used to represent the ears of a rabbit but may have earlier origins associated with spousal infidelity according to a Straight Dope[2] forum thread.

According to Wikipedia[3], consumer-grade digital cameras began being mass distributed in the early 2000s, which led to a rapid increase in the amount of photographic images being produced. Combined with the creation of online photo clubs and hobbyist groups like Flickr, trends began to emerge as photos began being shared across the Internet.
Playing Dead
Playing dead, a photo fad which involves posing as a corpse, swept across various South Korean online communities and social networking sites sometime in early 2003. The earliest instance of "playing dead" can be traced back to Crayon Shin-Chan, a Japanese manga from the 1990's by Yoshito Usui. The main character would often play practical jokes on his mother, in which he would lie down appearing as if he were dead on the floor.

Put Shoe on Head
In 2006, a group of YTMND users and 4chan's /b/ tards carried out a raid against the adult webcam chat site LiveJasmin, flooding the chatrooms with strange requests like "Do a Barrel Roll," "Show Me Your Keyboard" and "Put Shoe on Head." The last of the three requests caught on with others participating in the raid, which resulted in a fair collection of screen captures depicting models posing with shoes on their heads.

Face Masking
The practice of using artwork or objects as a face mask in the form of both sleeveface and moneyface in 2008. Sleevefacing involves positioning record sleeves in front of one's face, while moneyfacing entails combining one's own face and the historical figures portrayed on currency bills to reveal its hybrid appearance.


Reception
Lying Down Game
The Lying Down Game was started by United Kingdom residents Gary Clarkson and Christian Langdon. The game required participants to lie down rigidly with their arms to their sides, usually in an odd location. According to an article in the BBC[4], Clarkson and Christian claim to have invented the game in 2000. Sometime in 2006-2007, Clarkson and Langdon created a Facebook[5] group for the game. The page gained over 1,500 followers within the first two weeks, and has since spawned thousands of photos of people lying flat in public landscapes across the world.

Planking
Planking is a variation of the Lying Down Game that became popular in Australia when a Rugby player made the pose his signature move after scoring a goal. On May 15th, 2011, planking became a highly controversial topic when Acton Beale, a 20 year old from Brisbane, Australia, plunged to his death during a planking attempt off his seventh floor balcony.

Impact
Owling
Owling refers to the act of sitting in a perched position while looking off into the distance to mimic the posture of an owl. It sprung up on the social news site Reddit in July of 2011, and became one of the first photo fad responses to planking.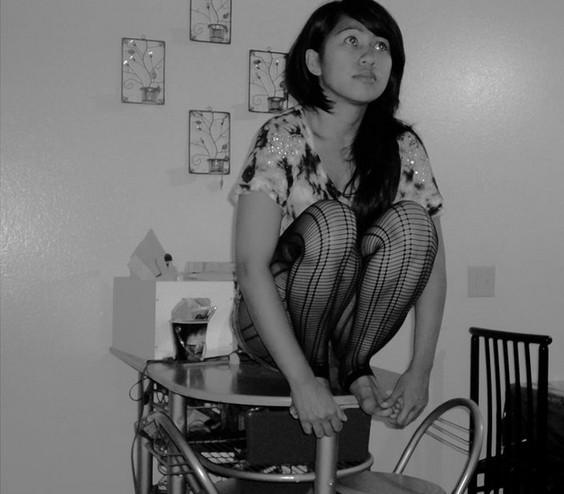 Horsemanning
Horsemaning is a photo fad created by the viral content site BuzzFeed in August of 2011. It refers to a 2-person pose where one person lays on their back with their head hidden while another person hides behind an object, only leaving the head exposed in the picture. Such photographs are meant to appear as if the person has been beheaded.

Batmanning
Batmanning is a YouTube video series and photo fad that involves subjects hanging vertically from objects by their feet, mimicking a bat's roosting position. The earliest instance dates back to 2008, but the fad did not take off until August of 2011.

Teapotting
Teapotting is a photo fad in which the subject holds a teapot pose in reference to the "I'm a Little Teapot" children's song and dance. It was created by Australian teachers Alison Coate and Olivia campbell, who started a Facebook page for the fad on May 16th, 2011.

Stocking
Stocking is a participatory photo fad in which people take pictures of themselves imitating various scenes from stock photographs. They are often shared online by placing the original stock photo directly next to the re-creation for comparison. The humor is derived from an ironic appreciation for awkward stock photos and odd themes, which became widespread with the Women Laughing Alone With Salad compilation posted in January 2011.

Eating Money
Eating Money is a photo fad that involves taking a photograph of oneself with bills or coins in the mouth or on a plate. The idea was first introduced through the single topic blog "Black People Eating Money" in 2011, it has drawn participation from people of various ethnic backgrounds.

Draping
On February 3rd, 2012, Draping started on Tumblr as a photo fad based on the opening credits of the dramatic television series Mad Men showing protagonist Don Draper sitting with his back facing the camera and his arm draped to his side. The trend gained traction after the official Mad Men Twitter account tweeted a link to the Tumblr on March 9th.


In Sports
There are numerous photo fads associated with professional athletes. Planking had its national break with New Zealander pro-rugby player David "Wolfman" Williams (shown below, left), who performed the plank during the Manly-Warringah Sea Eagles vs Newcastle Knights game in 2011; Tebowing originated from the NFL quarterback Tim Tebow's signature prayer's pose (shown below, center) on the field before games; Bradying was inspired by a photograph of NFL player Tom Brady (shown below, right) on the football field following his team's loss against the New York Giants at the Super Bowl XLVI.



In Viral Marketing
On September 14th, 2011, the viral content site BuzzFeed[7] launched a viral marketing campaign "razorbombing" for the Shick brand of safety razors. The concept involved taking forced perspective photos with a Shick razor to appear as if it were shaving the an object or landscape in the background.


Shamrocking is a photo fad in which the subject poses as if performing an Irish jig while holding a McDonald's Shamrock Shake. The fad was part of a viral marketing campaign for the shake created by McDonald's and launched via BuzzFeed[6] on March 19th, 2012.


Media Appearances
On September 22nd, 2011, the eighth season premiere of the American comedy television series The Office featured the photo fad planking as a plot device. In the episode, the character Dwight Schrute sabotages several employees' attempts at planking by pushing them off furniture and shooting them with a fire extinguisher.
On March 29th, 2012, Comedy Central aired the South Park episode 1603 "Faith Hilling", which featured a variety of photo fads including Cat Breading, Bradying and Tebowing. The episode also parodied the general phenomenon of photo fads with "Faith Hilling", in which the subject poses by pulling their shirt forward to mimic a woman's breasts, and "Taylor Swifting", which involves dragging one's nude posterior across the floor.
Search Interest
External References