About
#HurtBae refers to a seven-minute dialogue video in which a young woman named Kourtney and her ex-boyfriend Leonard discuss their relationship in retrospect, particularly about his history of sleeping with other women while they were together. Upon its release via Twitter on Valentine's Day in 2017, the video instantly went viral on the social media and prompted a discussion about infidelity, as well as a large volume of reaction images and image macro commentaries.
Origin
On February 14th, 2017, The Scene published a video titled "Why Did You Cheat On Me?" in which Kourtney and Leonard, a couple who had dated each other for three years, talk about how infidelity affected their relationship. That same day, the video also entered circulation on Twitter via The Scene's official account, garnering nearly 221,900 retweets and 478,799 likes within the first week.
Spread
The video resonated exceptionally well with the audience on Twitter, with the majority of both genders expressing their empathy and sympathy for Kourtney with reaction images and commentaries, quickly giving rise to the moniker #HurtBae overnight.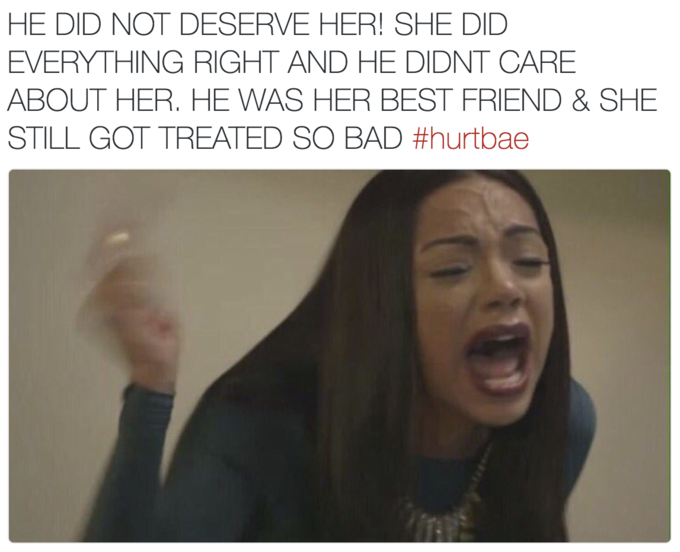 The next day, it was also uploaded to The Scene's YouTube channel under Kourtney's newly-given moniker HurtBae, where it drew more than 3.4 million views over the same time period. In the following days, a number of video remixes featuring the tearful reaction of Kourtney began to surface on Twitter as well. Throughout that week, the video and the meme were covered by various internet culture sites, women's interest blogs and black entertainment sites, including The Daily Dot, Bustle, Inverse, BuzzFeed, BET, Fader, The Wrap, People Magazine and Cosmopolitan.
#HurtBae 2
On February 22nd, 2018, YouTube[14] account Iris published a video entitled "#HurtBae 2: One Year Later – Kourtney and Leonard Meet Again." In the video (shown below), Leonard and Kourtney have a contentious conversation about the response to the video, including the basis of their relationship and why they did the video in the first place. Within five days, the video received more than 953,000 views. On Facebook, [18] the video received more than 53,000 reactions, 18,000 comments, 82,000 shares and 4.4 million views.
Several media outlets covered the reunion video, including The Root,[15] Vibe,[16] The Daily Mail[17] and more.
Following the release of #HurtBae 2, people on YouTube began posting reaction videos. That day, YouTuber[19] Dwayne N Jazz posted a reaction video (shown below, left), which received more than 46,000 views in five days.
On February 26th, late night hosts Desus & Mero uploaded a clip from their show of them reacting to the video. Since being uploaded to YouTube,[30] the video (shown below, right) received mroe than 58,000 views.
Various Examples






Search Interest
External References