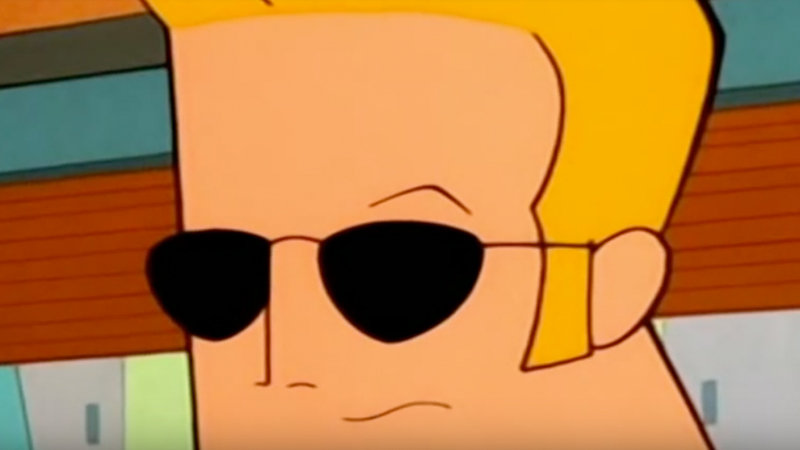 I Am Sickened But Curious
This submission is currently being researched & evaluated!
You can help confirm this entry by contributing facts, media, and other evidence of notability and mutation.
About
"I Am Sickened But Curious" is a memorable quote uttered by Johnny Bravo, the main protagonist of the animated television series Johnny Bravo, in the 1999 episode "Cover Boy." Online, a screen capture of Bravo saying the line has been used as a reaction image to express the fascination with elements of the Internet that would normally be considered strange or disgusting.
Origin
On August 13th, 1999, the episode of Johnny Bravo entitled "Cover Boy" aired.[1] In the episode, Bravo (voiced by Jeff Bennett) enters the character Pops's diner, where he finds Pops covering the character Carl in corn chowder to relieve a poison ivy rash. When Bravo finds the pair, he expresses both fascination and disgust:
"I am sickened but curious."
Spread
On August 5th, 2012, YouTuber FruxMoonDragon posted an isolated clip of the moment. Within six years, the post received more than 183,000 views (shown below, left).
The following year, on December 4th, 2013, Redditor [2] silentsighs493 posted a screen capture of the moment in the /r/Funny subreddit with the title "Johnny Bravo describes most of Reddit." The post received more than 2,500 points (93% upvoted) and 90 comments (shown below, right)

On March 29th, 2017, Tumblr [3] user nihileigh posted the picture with the caption "This picture defines how I use the internet." The post received more than 580,000 notes in a year and a half.

Various Examples






Search Interest
External References
Recent Videos
There are no videos currently available.