This submission is currently being researched & evaluated!
You can help confirm this entry by contributing facts, media, and other evidence of notability and mutation.
About
I Love Miners is a play on words popularized by Minecraft memes, including memes featuring an "I Love Miners" t-shirt with Minecraft characters on it, that reads the same way as the phrase "I love minors." Outside of Minecraft, the phrase is also used in ironic memes, often in reference to the profession of mining. It first started to be used in memes in late 2020 and spread over the following years.
Origin
Memes using variations of the phrase "I love miners" first started to appear online as early as August 17th, 2020. For example, on that date, iFunny[1] user MartinLuthersPen reposted a meme by Instagram[2] user thefunnyrepublican captioned, "Trump loves miners," showing Donald Trump hugging miners, over Biden kissing a young girl captioned, "Biden loves minors." On October 2nd, Redditor SwiperNoSwiping42 posted a meme to /r/okbuddyretard[3] about Minecraft Steve being added to Smash Bros. Ultimate titled, "I love miners," garnering over 30,000 upvotes in three years (shown below).

Spread
The phrase spread in memes over the following years in references to both Minecraft, the mining profession and more. For example, on December 22nd, 2021, Redditor CategoryMountain3379 posted a meme to /r/okbuddyretard[4] using a version of the phrase, garnering over 2,800 upvotes in two years (shown below).

I Love Miners T-Shirt
On October 15th, 2022, TikToker[5] @notsafeforwear posted a video where they create a Minecraft t-shirt that features the phrase "I love miners," garnering over 2.3 million views in seven months (shown below). The user sells the shirt on notsafeforwear.com.[6]
On March 24th, 2023, TikToker[7] @tyrecosdslol posted a video where he claims that his mother bought him the shirt after telling her he liked Minecraft, garnering over 2.8 million views in just over a month (shown below).
Various Examples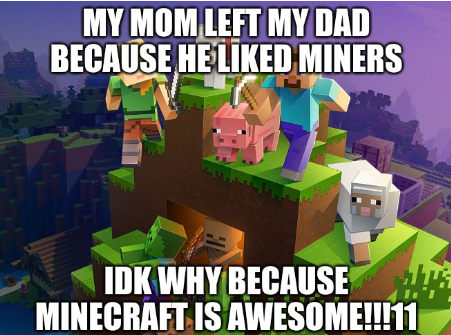 Search Interest
External References