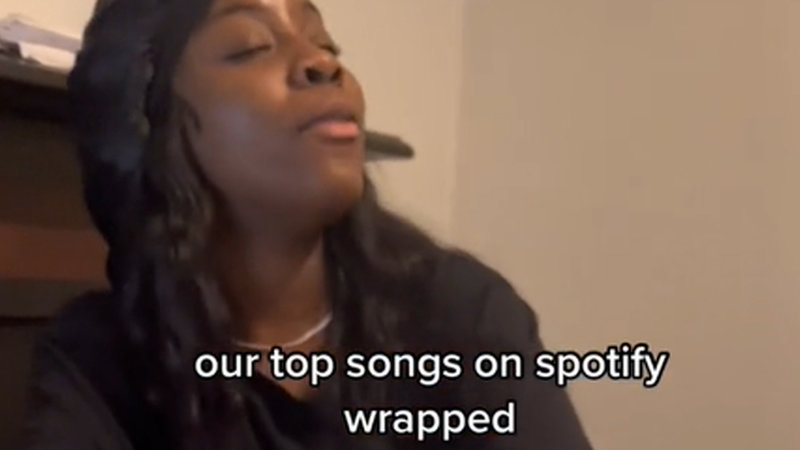 This submission is currently being researched & evaluated!
You can help confirm this entry by contributing facts, media, and other evidence of notability and mutation.
Content Warning: Portions of this entry make mention of suicide, which some may find difficult or upsetting. If you need support or are dealing with suicidal thoughts, please contact the National Suicide Prevention Lifeline's website or call 1-800-273-8255.
---
About
I Try Not To Kill Myself refers to a viral video and TikTok audio of a woman incorrectly singing the lyrics to Billie Eilish's "TV" as part of the karaoke without the lyrics trend. The video was posted to TikTok in early January 2023 and went viral as an original sound over the following weeks, the video also going viral with numerous captions.
Origin
On January 5th, 2023, TikToker[1] @aliciakamara_ posted a video where several women sing their top Spotify Wrapped without seeing the lyrics, garnering over 5.9 million views in a month (shown below). At one point in the video, a woman attempts to sing "TV" by Billie Eilish, but sings, "I try not to kill myself," instead of, "I don't wanna talk right now." On January 7th, TikToker[2] @e.m.o..1 posted the isolated clip of the woman singing the line, garnering over 2.7 million views in a month.
Spread
Over the following month, the original sound by @e.m.o..1 became notably popular, inspiring over 122,000 uses in a month. The audio is mostly used over videos of users talking about something embarrassing they've done. On January 16th, 2023, TikToker[3] @zarahmed03 posted a meme using the original video, garnering over 8 million views in three weeks (shown below, left). On January 25th, TikToker[4] @janaylee99 posted a video using the audio that gained over 17.7 million views in a week (shown below, right).
On February 1st, TikToker[5] and actress Nina Lu, who appeared on the Disney Channel series BUNK'D, posted a video using the sound, garnering over 19.5 million views in five days (shown below).
@theninalu

i just didnt nnow what to say when they started rolling……
Various Examples
@loumayyy

read the room sir, I hate people. Especially men.
Search Interest
External References
Recent Images
There are no images currently available.