About
Le Tits Now is an intentional misreading and misspelling of the phrase "let it snow" for comedic purposes. By separating the letters in the original phrase to read "le tits now," the benign seasonal phrase "let it snow" transforms into one of sexual desire (similar to Don't Dead Open Inside).
Origin
On November 27th, 2010, an anonymous 9GAG [1] user published the earliest known usage of the joke, rearranging decorative blocks that read "let it snow" to "le tits now." The post received more than 430 points in less than 11 years (shown below).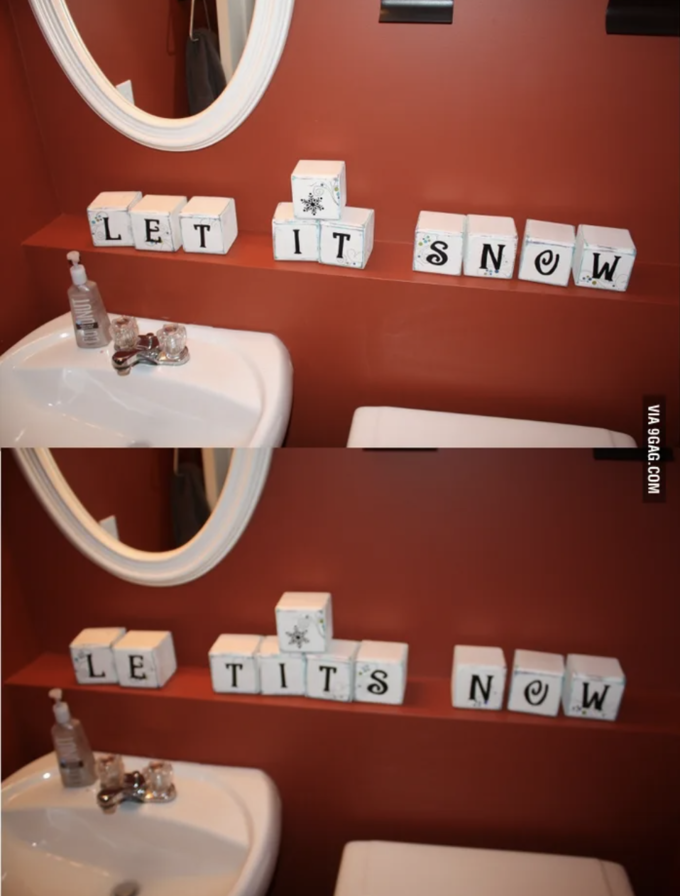 Spread
The phrase continued to see sporadic usage over the next few years. For example, on September 15th, 2013, Urban Dictionary [2] user lolbitchsup defined "let it snow" as "is actually a secret way of saying 'le tits now' (shown below, left).
In 2015, the meme reached the mainstream culture thanks to its inclusion in the "Celebrity Jeopardy" sketch at Saturday Night Live's celebration, which aired on February 15th, 2015.[3] In the sketch, Sean Connery (portrayed by Darrell Hammond) selects the category "Let It Snow" but reads the title as "Le tits now." On February 16th, 2015, SNL uploaded the sketch to YouTube, where it received more than 40 million views in less than six years (shown below, right).

Later that year, on December 7th, Redditor TheBanana_Stand published a photograph of a white house with the words "Let It Snow" written on the windows in the /r/funny[4] subreddit. However, because two of the windows were on the other side of the house's corner, the windows read, "Tits now." The post received more than 24,000 points (87% upvoted) and 490 comments in less than five years (shown below).

Various Examples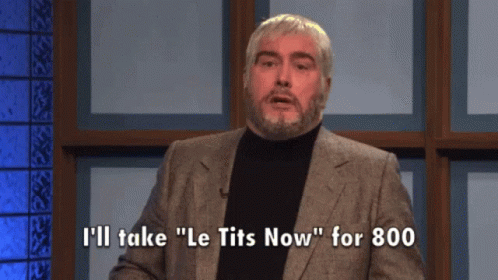 Search Interest
External References