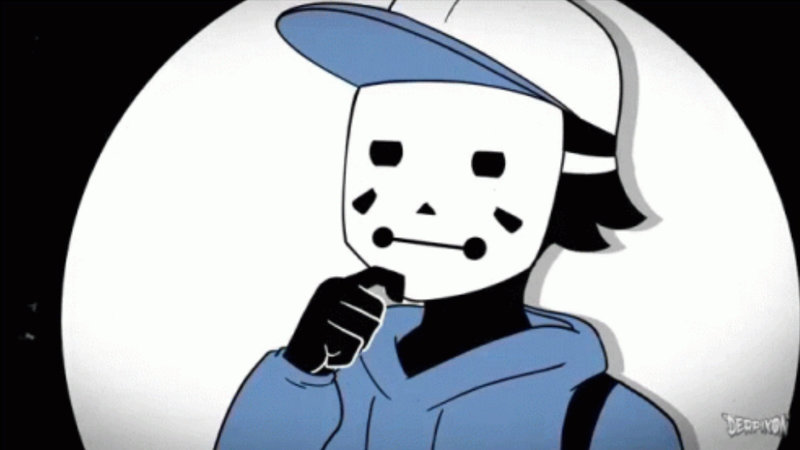 This submission is currently being researched & evaluated!
You can help confirm this entry by contributing facts, media, and other evidence of notability and mutation.
About
Mime Thinking Hard, also known as Masked Character Thinking Hard or Mime and Dash Squint, is an exploitable GIF of a masked animated character from the NSFW web animation Mime and Dash squinting in thought as he attempts to understand something. Following the GIF's initial use as a meme in September 2021, it has been used to show someone making a supreme effort to think about and understand something, usually something simple and obvious.
Origin
The GIF comes from a scene in Mime and Dash, which was uploaded to Newgrounds by animator Derpixon on July 16th, 2021. The unnamed masked character squints as he attempts to guess the second of three mime acts performed by the mimes Bonbon and Chuchu. An isolated GIF of the squint was uploaded to Tenor[1] on July 25th.
The earliest recorded example of the GIF being used as a meme was on September 4th, 2021, when Redditor Dapper_Dildo posted a meme made with the GIF to /r/memes.[2] The meme (shown below) received over 11,000 upvotes in a week.

Spread
On September 9th, Redditor Hatchedsun1591 posted an example of the meme about remote classes to /r/memes.[3] The meme (seen below) received over 20,000 upvotes in five days.

The same day, Redditor Flipcoyote14774 submitted a request for a blank version of the meme to r/MemeTemplatesOfficial.[4] The request received over 7,000 upvotes in five days.
On September 10, 2021, Redditor insighttrip uploaded an example of the meme about Chinese censorship to r/memes.[5] The example (seen below) received over 12,000 upvotes in four days.

Various Examples




Template

Search Interest
External References