This submission is currently being researched & evaluated!
You can help confirm this entry by contributing facts, media, and other evidence of notability and mutation.
About
Missile Toad is a pun on the word "mistletoe" often visually represented in memes as a toad with a missile strapped to its back. The pun first started spreading online in 2020 and gained virality through what if we kissed memes, inspiring further memetic usage of the pun, as well as fan art depicting the missile toad.
Origin
It is unclear when the "missile toad" pun was first made on the internet, with numerous posts using the play on words throughout the late 2010s. For example, on December 25th, 2018, DeviantArt[1] user RichYan33 posted a piece of artwork making the pun, garnering over 400 views in four years (shown below, left). On November 19th of that year, iFunny[2] user MadGodKorah posted a "what if we kissed" meme using an image of a toad with a missile launcher strapped to it, garnering over 65 smiles in two years (shown below, right). This is the earliest known meme combining the missile toad pun with the "what if we kissed" meme format.


The "missile toad" is meant to be a parody of the Christmas mistletoe tradition, which revolves around the concept that someone is allowed to kiss any person standing beneath a bouquet of Mistletoe. If the kiss is refused, bad luck supposedly befalls the person who refuses.[10]
Spread
On December 18th, 2020, Redditor doucheyMcdingle posted a meme showing a missile toad hanging like mistletoe to /r/memes,[3] captioned, "what would you do if we kissed underneath the missile toad?" garnering over 12,000 upvotes in two years (shown below).

On December 1st, 2021, Twitter[4] user @thegallowboob posted an image showing a model missile toad hanging from the ceiling by a ribbon, writing, "its that time of the year again, don't forget to hang your missile toads," garnering over 220,000 likes and 38,000 retweets in a year (shown below, left). The post gained viral spread. For example, it was reposted to /r/me_irl[5] on December 2nd, garnering over 29,000 upvotes. A version of it was also posted to the Instagram[6] page wholesomee.shitt, garnering over 11,000 likes in a year (shown below, right). On December 3rd, a Drakeposting meme using the missile toad was posted to /r/memes,[7] garnering over 6,500 upvotes in a year.


The meme saw a resurgence in interest leading up to Christmas 2022 and the holiday season. On December 8th, 2022, Twitter[8] user @rainbloomshop posted a piece of missile toad artwork, garnering over 3,700 likes in four days. On December 11th, Twitter[9] user @rizdraws posted a piece of artwork using the pun, garnering over 59,000 likes in a day (shown below).

Various Examples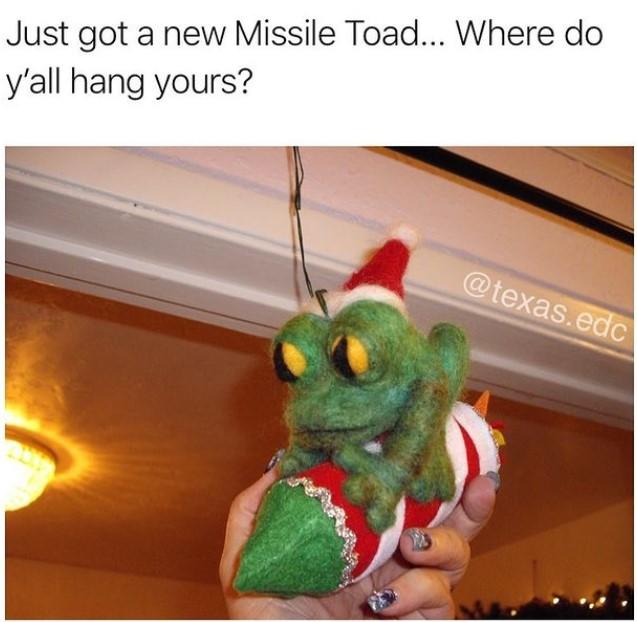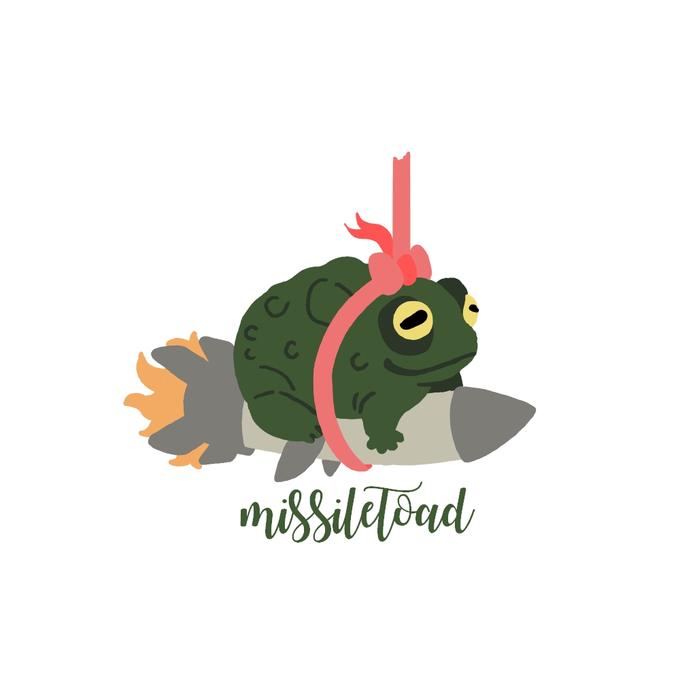 Search Interest
External References