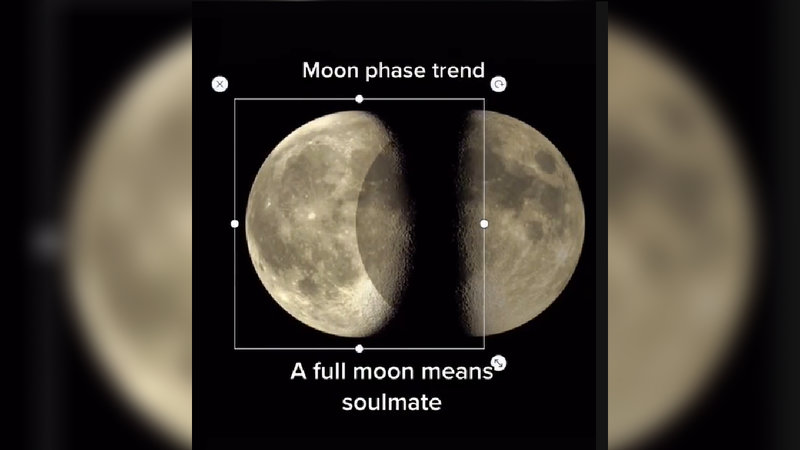 This submission is currently being researched & evaluated!
You can help confirm this entry by contributing facts, media, and other evidence of notability and mutation.
About
The Moon Phase TikTok Trend is a trend on TikTok in which users post videos lining up their astrological moon phase with their partner's to see if they make a full moon, which supposedly means that the two people are soulmates. The trend first became popularized on TikTok as early as January 2022, seeing a boost in virality again in March 2023 along with the use of a moon phase CapCut filter.
Origin
The earliest known video of someone doing the moon phases trend was posted to TikTok[1] by @lexihernandezz on January 28th, 2022. The video is captioned, "Moon phase trend, a full moon means soulmate" and shows two moon phases, presumably hers and her significant other's, overlapping one another to make a full moon, garnering over 357,000 views in a year (shown below). Moon phases such as these can be determined using a number of websites, including yourmoonphase.com.[2]
Before the specific "soulmates" trend, TikTokers were making phone wallpapers out of their own and their partner's moon phase images, which went viral on the platform around the same timeframe.[3]
Spread
The trend became increasingly popularized on TikTok in March 2023 along with a Capcut template that brings two images together in the center of the screen and displays the birth date of each person behind the moon phase. On March 5th, 2023, TikToker[4] @kaylahouston03 posted a version of the trend, garnering over 1.5 million views in a day (shown below, left). Later that day, TikToker[5] @honeybthatsme posted a version of the meme in which the two moon phases do not match up at all, garnering over 6 million views in under 24 hours (shown below, right).
On the same day, March 5th, TikToker[6] @tiffanyzoeller posted a version of the meme similarly showing moons that don't connect, garnering over 26 million views in a day (shown below).
Various Examples
Search Interest
External References
Recent Images
There are no images currently available.