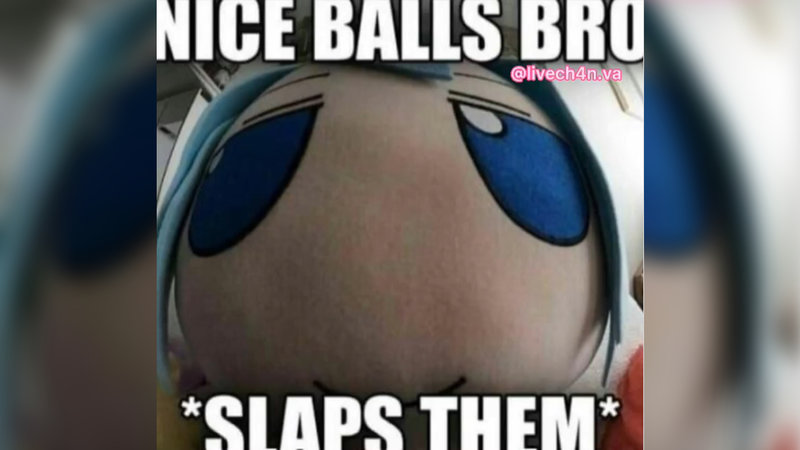 This submission is currently being researched & evaluated!
You can help confirm this entry by contributing facts, media, and other evidence of notability and mutation.
About
Nice Balls Bro is a catchphrase popularized in a series of memes, including image macros and voiced over video memes, often depicting someone saying the phrase followed by an implication of harming the person's testicles. The earliest known meme using the phrase was posted to Twitter in 2020 and gained further popularity in 2021 after an Instagram user voiced over the phrase, inspiring further edits using the audio clip. The phrase is similar to the nice cock meme.
Origin
On April 8th, 2020, Twitter[1] user @ThatSubUrban posted an meme captioned "nice balls bro" over an image of a dog sniffing the camera, garnering roughly 30 likes in three years (shown below, left).. This is the earliest known meme to use the phrase. On March 25th, 2021, iFunny[2] user single_moms_butthole made a similar meme with another sniffing dog image, garnering over 210 smiles in two years (shown below, right).


On June 18th, 2021, Instagram[3] user livech4n.va posted a version of a version of the meme that includes the Metal Pipe Falling Sound Effect after the line is spoken, garnering over 1,000 views in two years. On September 17th, the same user uploaded the meme to YouTube,[4] garnering over 227,000 views in a similar span of time (shown below).
Spread
The caption became increasingly popular in image macros over the following years, while the voiceover by livech4n.va became popular on YouTube. On September 10th, 2021, YouTuber[5] Square Head ROBLOX posted a Roblox animation using the audio clip, garnering over 351,000 views in two years (shown below). On October 5th and 15th, Instagram[6][7] users reaccmemes and sirgoofyahhmemes posted memes using the caption that garnered over 51,000 and 24,000 likes respectively in two years.
On December 31st, 2022, YouTuber[8] SnowTenkey posted a Chainsaw Man animation using the audio, garnering over 274,000 views in five months (shown below, left). On February 10th, YouTuber[9] CherryBomb!! posted a version of the meme that gained over 113,000 views in three months (shown below, right).
Various Examples



Search Interest
External References