About
Amanda Bynes is an American actress known for her appearances in the Nickelodeon television series All That and The Amanda Show. In 2010, she began making celebrity news headlines for posting strange tweets on the social networking and microblogging site Twitter.
Online History
Twitter Presence
On June 19th, 2010, Bynes announced on her now-defunct Twitter account @chicky[15] that she was retiring from acting at the age of 24 and that she had a sexual preference for black men. The following day, The Huffington Post[22] reported on the announcement in a post featuring a screenshot of the series of tweets (shown below).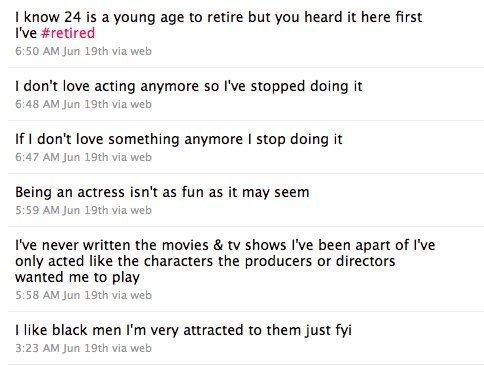 On January 27th, 2011, Bynes created the @AmandaBynes[17] Twitter feed, which gained over 667,000 followers in the next three years. On March 21st, 2013, Bynes posted a tweet declaring that she wanted the fellow Nickelodeon child actor and rapper Drake to "murder my vagina" (shown below). Within one month, the tweet accumulated upwards of 48,000 retweets and 30,000 favorites. In the coming days, Bynes' remark was reported on by several entertainment news sites, including Radar Online,[6] The Huffington Post,[7]TMZ,[8] Fox News,[9] LA Times,[10] New York Magazine[11] and The Daily Beast.[12]
I want @ drake to murder my vagina

— Amanda Bynes (@AmandaBynes) March 22, 2013
On April 10th, Bynes posted a threat to any news sites publishing articles about her "erratic behavior" and complained about being stalked by paparazzi who took unflattering photos of her (shown below). In the first nine days, the tweet received over 700 retweets and 600 favorites.

On April 11th, Bynes tweeted that she had discontinued communication with her parents and that people should only believe stories about her that she has tweeted herself. In the next eight days, the tweet gained more than 900 retweets and 1,100 favorites.
I don't speak to my parents anymore, they don't talk to reporters on my behalf. Don't believe anything you read about me unless I tweet it.

— Amanda Bynes (@AmandaBynes) April 11, 2013
On April 15th, Bynes posted a link to a video in which she is shown wearing copious amounts of makeup while looking at herself in the mirror wearing a duck face expression (shown below).[14] In the first four days, the tweet received over 1,400 retweets and 790 favorites.
The following day, the entertainment news site Complex[21] highlighted the video in a post titled "Amanda Bynes Either Needs Help, or is Trolling Us All." Hours later, Bynes retaliated by denouncing the site on Twitter,[1] claiming that they were in cahoots with her "ugly ex" rapper Kid Cudi (shown below). In the next three days, the tweet garnered upwards of 530 retweets and 400 favorites.

Shoplifting Incident and Twitter Rant
On October 8th, 2014, a Barneys department store in New York City called the police reporting that Bynes had placed a hat on her head and left the store without paying for the item. No charges were filed after Bynes signed a no-trespass affidavit barring her from entering the store. In an interview with People Magazine,[24] Bynes claimed the incident was based on a misunderstanding and that she had left to store to get her handbag out of her car after being harassed by paparazzi.
"I had been harassed by a man – a man and this woman were basically trying to take my picture inside the store, and so I asked them to stop taking it, but they wouldn't … They were like paparazzi but undercover. I walked out of the store, and the sensor went off. I didn't realize I was wearing my cap. And the cap – I was purchasing it, and I was actually still shopping."
The same day, the entertainment news magazine In Touch Weekly[23] published an article describing Bynes' odd behavior witnessed by reporters several days prior in which she claimed to have a microchip implanted in her head. That evening, Bynes posted a series of tweets announcing she would sue In Touch for lying about her in the article (shown below left). On October 10th, Bynes tweeted several accusations that her father verbally and physically abused her as a child. That day, TMZ[25] reported that Bynes was fleeing New York after hearing that her parents planned to put her in a mental health facility. Also on October 10th, Bynes tweeted that her father never abused her and that the microchip in her brain persuaded her to tweet the accusations.


Reputation
Bynes has a reputation for behaving erratically and getting into trouble with law enforcement. On March 8th, 2012, TMZ[2] reported that Bynes drove away from a police officer while he was writing her a ticket for talking on a cell phone while driving. On March 17th, TMZ filmed Bynes driving away from the Greystone Manor nightclub, claiming she appeared to be intoxicated (shown below)
On April 6th, Bynes was arrested for allegedly driving under the influence after attempting to pass a police officer and sideswiping the vehicle. That same day, TMZ[3] reported on the arrest and posted a copy of her mug shot taken at a police department in West Hollywood, California (shown below).[4]

On September 19th, People Magazine[5] published an interview with Bynes, who denied that she had driven while intoxicated:
"I am not talking about being arrested for DUI because I don't drink, and I don't drink and drive. It is all false."
On November 1st, the entertainment news blog In Touch[19] reported that Bynes had purportedly walked around a tanning salon in New York City completely naked. That same day, Bynes told Us Weekly[20] that she planned to sue In Touch for the story, adding "I'm 26, a multi-millionaire, retired. Please respect my privacy." On February 1st, 2013, TMZ[18] reported that Bynes had been evicted from her New York City apartment for repeated complaints about marijuana smoke coming from her room.
Search Interest
External References