This submission is currently being researched & evaluated!
You can help confirm this entry by contributing facts, media, and other evidence of notability and mutation.
About
Lena Dunham is an American actress and writer best known for creating and starring in the HBO series Girls. She has become a controversial figure online, becoming both a champion of feminism and body postivitiy while fielding criticism about nepotism and the lack of diversity on Girls.
Acting Career
Dunham appeared in a few short student films in the late 2000s, appearing in her first feature film, Creative Nonfiction in 2009. In 2010 she wrote, directed and starred in Tiny Furniture which won the 2011 Independent Spirit Award for best first screenplay. She appeared in several films after the 2012 premiere of Girls including This Is 40 (2012) and Happy Christmas (2014).



Girls
Girls is an American comedy television show that follows the lives of four women in their early twenties living in New York City written, directed, and starring Dunham. Upon its premiere on HBO in April 2012, the show quickly became a hot topic on entertainment and women's issue websites, with bloggers often criticizing the lack of racial diversity on the show.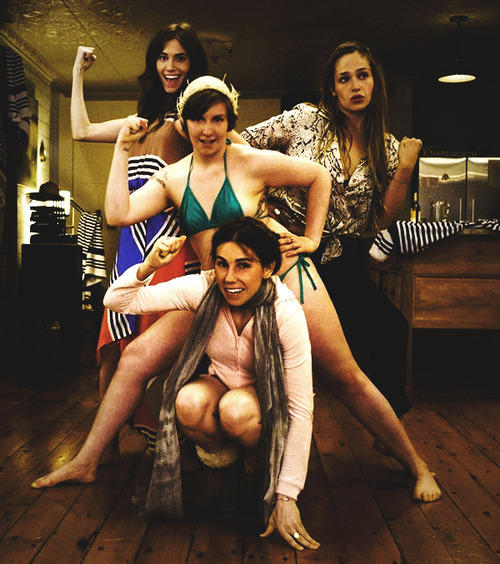 Online History
Vogue Cover
On January 16th, 2014, after Vogue released photos of actress and comedian Lena Dunham appearing in their February issue, Jezebel published an article titled, "We're Offering $10,000 for Unretouched Images of Lena Dunham in Vogue."[2] The feminist website explained in the article,
"Lena Dunham is a woman who trumpets body positivity, who's unabashedly feminist, who has said that her naked body is "a realistic expression of what it's like to be alive" and "if you are not into me, that's your problem." Her body is real. She is real. And for as lovely as the Vogue pictures are, they're probably not terribly real. So Jezebel is offering $10,000 for pre-Photoshop images from Lena's Vogue shoot."
This call for the originals drew criticism, with TV critic Emily Nussbaum tweeting,
"If Dunham wanted to release her own retouched photos, that might be interesting. Asking for a bounty on them? GROSS."
[3]
and screenwriter Diablo Cody adding,
"This is total mean-girl shit masquerading as feminism. I'm disgusted."
[4]
Jezebel reported receiving the alleged untouched images two hours after their call, and published them in the form of before and after GIFs in an article posted on January 17th.[5]

Not That Kind of Girl
On September 30th, Not That Kind of Girl, Dunham's essay collection was published. Dunham received an advance of $3.7[12] million from Random House
Tour Controversy
On September 29th, 2014, Gawker[7] published an article titled "Lena Dunham Does Not Pay," which explained the artists and performers that would perform before Dunham on the book tour for her memoir Not That Kind of Girl would not be paid. The article goes on to outline Dunham's public assets, including what she would be making for the tour, alleging it is hypocritical of such a high paid author to not pay struggling artists working for her. The same day Dunham sent out a series of tweets[8] in response to the Gawker article, through which she explained she would now be paying the performers.



Accusations of Child Molestation
On October 29th 2014, Truth Revolt, a right-wing-friendly website, published an article quoting several segments from Dunham's book about her childhood's sexual experience and teenage years with her sister[13]. In that article, they accused Dunham of sexual abuse and child molestation. She reacted on Twitter, finding the claims preposterous and offensive while her sister came to her support. Dunham later revised her tweets into an apology for all people who may have been offended by those passages of the book. Truth Revolt made a follow-up article refusing to rectract their accusations after demands from Dunham's lawyers. These events were all summed up in a Guardian article from november 5th[14]. These accusations became a heated subject online as many articles were issued discussing whether what Dunham's experiences with her sister described in the book could be considered child abuse or not. Among them, Salon.com[15] published one in which they asked experts on the matter, many of them expressing that, while some of her actions may constitute bribing, what Dunham did couln't be considered as child abuse according to them.
Clinton Rap Video
On November 2nd, 2016, Funny or Die posted a video for a rap song Dunham made in support of Hillary Clinton called "Sensual Pantsuit Anthem."
In an interview with Vulture,[16] Dunham explained that she intended the video, which features rapper Charlamagne Tha God and actress Cynthia Ervio, to be a parody of ineffective celebrity PSAs while still being pro-Hillary.
The video received widespread-criticism; as of November 4th, 2016, the video has about a 1:4 funny-to-die ratio.[17] Critics on Twitter derided the ineffectiveness of the video as a campaign stunt. User @LostCatDog[18] said, "Well if post-ironic meta celebrity in-joke limousine liberalism doesn't bring the white working class back to the party I give up." The tweet, shown below, has over 1,600 retweets. Kia Makarechi of Vanity Fair tweeted, "This is what voter suppression looks like."[19] Slate[20] ran the story under the headline, "Lena Dunham Made a Pro-Hillary Rap Video That Tries to Spoof the Idea of a White-Girl Rap Video. It Doesn't Quite Work." The Daily Wire[21] published the video under the headline, "This Video of Lena Dunham Stripping and Rapping For Hillary Will Ensure a Trump Win."

Denial of Girls Writer Rape Allegation
On November 17th, 2017, The Wrap[22] reported that former Girls actress Aurora Perrineau had filed charges against Girls writer and executive producer Murray Miller, alleging that he raped her in 2012 when she was 17 years old. The Wrap published a polygraph test Perrineau passed in September of 2017 in which she recalled the allegations, which include Miller having sex with her while she was asleep. Miller's attorney, Matthew Walerstein, released a statement to The Wrap which read:
After being contacted several weeks ago by lawyers who–on Ms. Perrineau's behalf–sought substantial monetary damages from him, Mr. Miller's legal team gathered overwhelming evidence directly contradicting these false and offensive claims. Only after her demands for money were rebuffed did Ms. Perrineau go to the police. Mr. Miller looks forward to sharing all evidence and information with any and all authorities seeking the truth in this matter.
Perrineau's mother Brittany denied the charge that they sought monetary damages from Miller. Later that day, Dunham and showrunner Jenni Konner sent a statement to The Hollywood Reporter[23] in which they voiced their support of Miller. Their statement reads:
"During the windfall of deeply necessary accusations over the last few months in Hollywood, we have been thrilled to see so many women's voices heard and dark experiences in this industry justified. It's a hugely important time of change and, like every feminist in Hollywood and beyond, we celebrate. But during every time of change there are also incidences of the culture, in its enthusiasm and zeal, taking down the wrong targets. We believe, having worked closely with him for more than half a decade, that this is the case with Murray Miller. While our first instinct is to listen to every woman's story, our insider knowledge of Murray's situation makes us confident that sadly this accusation is one of the 3 percent of assault cases that are misreported every year. It is a true shame to add to that number, as outside of Hollywood women still struggle to be believed. We stand by Murray and this is all we'll be saying about this issue."
She also tweeted "I believe in a lot of things but the first tenet of my politics is to hold up the people who have held me up, who have filled my world with love."[24] This led to intense vocal backlash against Dunham on social media.[26] Many posted a screenshot of a tweet where Dunham stated that women do not lie about rape. User @JBird1579[25] posted the screenshot and gained over 380 retweets and 3,500 likes (shown below, left). User @xeronius[27] summed up Dunham's position as "'Believe women, unless they say something about a friend of mine, in which case they are liars.'" The tweet gained over 730 retweets and 8,600 likes (shown below, right).


The backlash caused Dunham to release a follow-up statement the following day in which she apologized for defending Miller[28] (shown below).


The following day, Lenny Letter writer Zinzi Clemmons[29] issued a statement saying she would no longer be writing for Dunham's publication due to Dunham's "Well-known racism," and said Dunham's decisions regarding the rape allegations pushed her to make the decision. Her tweeted statement gained over 10,000 retweets and 31,000 likes (shown below).

Apology Bot
On November 19th, 2017, Joss Wheeler and Liz Croagh launched the Twitter[30] account @lenadunhamapols, a generator that publishes sarcastic apologies from the perspective of Lena Dunham. That day, the generator posted its first tweet,[31] which read, "Lena Dunham Apologizes For Timing Of Statement About How The Patriarchy Is 'Fetch' On A Diveristy Panel Full Of White People." The post (shown below) received more than 25 retweets and 100 likes in less than three days.
Two days later, Mashable[32] published a report on the apology bot.

Fandom
As of September 2014, Dunham's Twitter account has gained over 1.7 million followers and her Instagram account[9] has gained over 1.1 million followers. Fan run Tumblr blogs dedicated to Dunham include fuckyeahlenadunham[10] and lenadunhamloversanonymous.[11]



Search Interest
External References
[30] Twitter – @lenadunhamapols
[31] Twitter – @lenadunhamapols' Tweet
[32] Mashable – Someone on Twitter made a Lena Dunham apology bot